Spiral Galaxy NGC 4102
---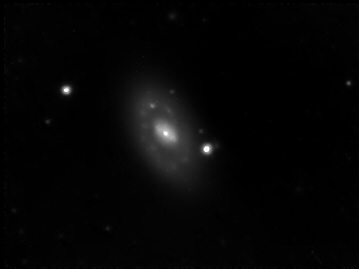 ---
This is a 10 minute exposure with an ST-6 CCD camera thru Kopernik's 20-inch F/8.1 Ritchey Chretien Cassegrain telescope. The field of view is about 5x7 arc minutes, with North at the top.
---
Quote from the Deep Sky Field Guide to Uranometria 2000:

Small bright nucleus, in very bright isolated lens 0.5 x 0.25 arc minutes, two main detached bright knotty arms form a pseudo ring 1.2 x 0.6 arc minutes.

Spiral galaxy NGC 4102 is one of a group of galaxies in Ursa Major that is further away than the M-81/M-82 galaxy group. The red shift (Hubble Constant of 62 Km/sec per Mpc) gives a distance estimate of 44 million light years and a diameter of 40,000 light years. This spiral galaxy is a powerful far-infrared source (Young et al. 1989), with the IR apparently coming from a supergiant H II region (Armusetal. 1990). A strong radio emission is attributed by Condon et al. to the supernova remnants associated with a strong burst of star formation. However, the radio source is small enough to be observed with the International Ultraviolet Explorer spacecraft, and the Ultraviolet spectrum does not resemble that of a starburst galaxy. It would appear that the true nature of this galaxy remains to be uncovered.
---
NGC 4102
Magnitude: 12.0
Constellation: Ursa Major
RA: 12h 06m 24.0s
Dec: +52d 43' 00" Epoch 2000
Size (mins): 3.0 x 1.5
Classification: SAB(s)b? II
Spiral, mixed Barred/Non-Barred, S-shaped(uncertain), Luminosity class II


---
Click below to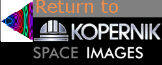 George Normandin, KAS
May 11th, 1998
Revised: June 24th, 2003