Galaxies M-81 and M-82
---
This is a CCD Image taken thru our 80mm VERNONscope APO Refractor, using an ST-6 CCD Camera. It covers a field of about one square degree.

To see a MUCH LARGER(97k) picture that has close-ups of both galaxies taken thru our 20 inch telescope, CLICK HERE.
---
J.E.Bode discovered M 81 and M 82 at Berlin in December 1774. He described M 81 as "a nebulous patch, more or less round, with a dense nucleus in the middle".

This is one of the finest pairs of galaxies for small telescopes; they are 38' apart and form a striking duo even in 20x80 binoculars. The two systems form the nucleus of a small group which may be the nearest group of galaxies beyond our own Local Group. Published distances range from 6.1 to about 9 million light years, and it is not quite certain whether this aggregation or the Sculptor Group is the closest to us. S.van den Bergh, in a list published in 1977, gives 6.5 million light years as the distance of M81; J.L.Sersic has 7.4 million, while A.Sandage in the Hubble Atlas of Galaxies (1961) reports a distance of about 8.5 million light years. The M81 group contains about a dozen galaxies.

In addition to M81 and M82, this galaxy group also contains the peculiar galaxies NGC 3077 and 2976, the faint irregular systems NGC 2366, IC 2574 and Ho II, and possibly a few other faint members. The large spiral NGC 2403 in Camelopardalis also appears to be a dynamical member of this group.
---
To learn more about the great spiral galaxy M-81, Click Here (more pictures!!).

To learn more about the strange and disturbed galaxy M-82, Click Here (more pictures!!).
---
Click below to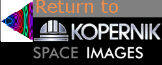 George Normandin, KAS
July 15th, 1997