Spiral Galaxy M-63 (NGC 5055) in Canes Venatici
---

Top image is a 50 minute exposure with an STL-1301E CCD camera thru Kopernik's 20-inch telescope focal reduced to F/5. The field of view is about 20x23 arc minutes, with North to the top.
---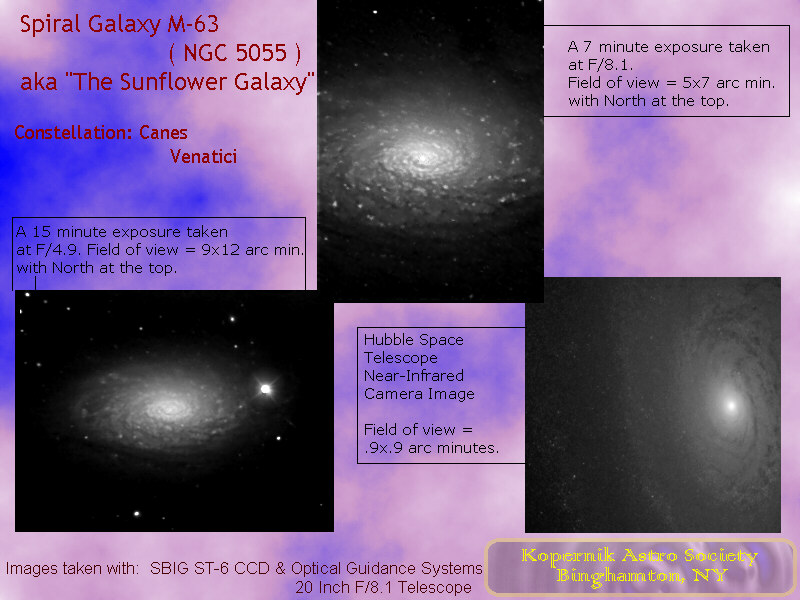 ---
Quote from the Deep Sky Field Guide to Uranometria 2000:

"Very small, very bright stellar nucleus in bright inner lens 1.7 x 0.95 arc minutes, many filamentary arms."


Quote by Charles Messier (June 14th, 1779): ?Nebula discovered by M. Mechain..... it is faint; it has nearly the same light as M-59. Contains no star and with the slightest illumination of the micrometer wires, it disappears. Near to it is an 8th magnitude star west of the nebula. M. Messier reported its position on the chart of the comet of 1779.?


Quote from Burnham's Celestial Handbook:

M63 was discovered by Mechain in 1779. It is a very fine Sb type spiral, oriented about 30° from the edge-on position. It has a very bright central condensation measuring about 6 arc seconds in diameter. This nucleus is encircled by a bright, tightly coiled system of spiral arms out to a radius of about 50 arc seconds. Here there is a sudden drop in the surface brightness, and a second pattern of spiral arms continues to sweep outward in a series of magnificent sprays of star clouds. The outer arms are rather reminiscent of showers of sparks thrown out by a rotating fiery pinwheel. To others, the structure apparently resembles some vast celestial flower, since the galaxy has received the popular name of the "Sunflower". The sudden discontinuity in the brightness between the inner and outer spiral features is the chief characteristic of the M63 type of galaxies, which are known as "multiple-arm spirals". The very beautiful spiral NGC 2841 in Ursa Major would have a very similar appearance if its outer arms were a little looser in structure. Many of the cloudlets and condensations in the arms have been identified as regions of bright nebulosity.
---
M-63, NGC 5055
Magnitude: 9.6
Constellation: Canes Venatici
RA: 13h 15m 49.3s
Dec: +42° 02' 06" Epoch 2000
Size (mins): 12.6' x 7.2'
Classification: SA(rs)bc II-III
Spiral galaxy, mixed inner-ring - S-shaped, Luminosity Class II-III
---
George Normandin, KAS
July 9th, 2009