Supernova 1999by in Spiral Galaxy NGC 2841
---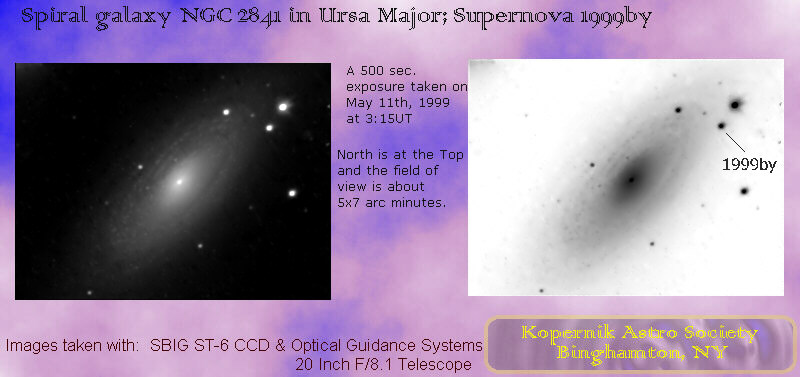 ---
The following is the data on Supernova 1999by:
Discovered: May 1st, 1999, by Mr. Ron Arbour, South Wonston, Hants, U.K., and by the Lick Observatory Supernova Search team.
Magnitude 15.1 at discovery
Type Ia, peculiar
The Supernova as shown in the Kopernik image has increased in magnitude to about 13.8.
From IAU Bulletin 7159 (5/7/99):
Spectra obtained by P. Berlind ...... confirm that SN 1999by is a type-Ia event, but the spectrum is peculiar. ......(it) is similar to ........ SN 1991bg, the prototypical fast-declining, subluminous type-Ia supernova.....
---
Follow this Link to a NASA Web site on supernovas. It has a very nice animation and a description of what these objects are.
---
Spiral Galaxy NGC 2841:
NGC 2841 is a well-known Spiral galaxy and the host of three past supernovae (1912A, 1957A, 1972R). It has a central region composed of a bright nucleus and an amorphous lens devoid of dust or spiral structure. The lens resembles an Elliptical or Lenticular galaxy. Multiple, thin dust lanes begin to spiral outward at the periphery of the amorphous lens. They appear to be separate luminous spiral filaments of very complex structure. At first glance the filaments look like complete spiral arms, but closer inspection shows that only thin broken segments are present which cannot be traced as individual arcs for more than 30 degrees.

Infrared observations show that a ring of intense star formation surrounds the nucleus. However, observations by radio astronomers show that the galaxy has a lot of cool hydrogen and molecular gas that is probably in the spiral arms.

Dreyer's description from the New General Catalog(NGC): Very bright, large, very moderately extended 151°, very abruptly much brighter middle = 10th magnitude star.

Based on the published red shift, a rough distance estimate for NGC 2595 and supernova 1999by is: 34,000,000 light years, with the galaxy being 135,000 light years in diameter.
Magnitude: 10.1
RA: 09h 22m 01.7s
Dec: +50°58'31" Epoch 2000
Size (mins) 8.1' x 3.5'
Constellation: Ursa Major
Classification: SA(r)b:

Spiral Galaxy, with an inner ring (uncertain).
---
Click below to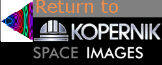 George Normandin, KAS
May 12th, 1999