Supernova 1997db in Spiral Galaxy UGC 11861
---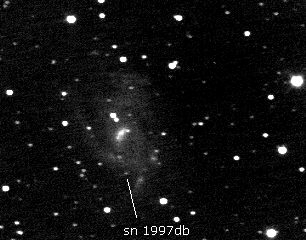 CCD Image of Supernova 1997db in Galaxy UGC 11861 taken on 10/6/97 at 1:23 UT. It is a 6 Minute exposure using an SBIG ST-6 CCD camera thru Kopernik's 20 inch F/8.1 telescope. North at top; the field of view is about 5x7 arc minutes. The image was limited to 6 minutes when the sky clouded up.
---
The following is the data on SN 1997db:
Discovered: August 2nd, 1997
Mag 16.9 (at discovery)
Type II, after maximum
Announced in International Astronomical Union Circular(IUAC) 6711:


M.Schwartz ......reports his discovery of an apparent supernova on a CCD image taken on Aug. 2.30 UT. The following position and magnitude were measured by W. Offutt (Cloudcroft, NM) from an image supplied by Schwartz: R.A. = 21h56m20s.53, Decl. = +73o14'49".4 (equinox 2000.0), V = 16.9. Note that SN 1995ag was in the same galaxy (IAUC 6244).
Comments from Mr. Mike Schwartz, the discoverer of the supernova, about this web page and about the supernova:
"What a beautiful presentation! I think that it is easy to see the SN. And it should be around for a while. UGC 11861 is fairly close and SN1997db was discovered when it was well into the nebular phase. Its light curve may take much longer to tail off as the expansion nebula around the SN is ionized and emitting light."
---

This is the data on Spiral Galaxy UGC(Uppsala General Catalogue of Galaxies) 11861 itself:
UGC 11861
Other IDs: CGCG 343-3, IRAS 21557+7301, PGC: 67671
Magnitude: 14.2
RA: 21h 56m 22.4s
Dec: +73d 15' 37" Epoch 2000
Size (mins) 3.5 x 2.6
Constellation Cepheus
A Spiral Galaxy, mixed Barred Non-barred
Quote from The Deep Sky Field Guide to Uranometria 2000:
Extremely diffuse spiral. Surface Brightness: 15.9th magnitude.
---
Follow this Link to a NASA Web site on supernovas. It has a very nice animation and a description of what these objects are.
---
Click below to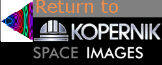 George Normandin, KAS
November 2nd, 1997, updated Nov. 3rd, 1997