Planetary Nebula Pk 318+41.1 in Virgo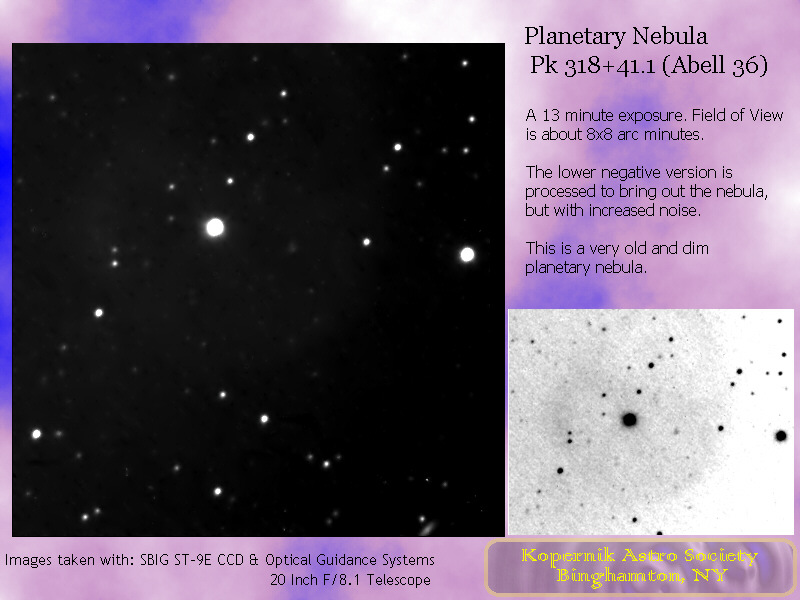 CCD image taken with an ST-9E CCD camera thru Kopernik's 20-inch F/8.1 telescope. The image scale is about 8' x 8' arc minutes, with North at the top. The exposure was 13 minutes.
---
Description of Pk 318+41.1 in
The Deep Sky Field Guide to Uranometria 2000:
Irregular disk with traces of ring structure, involved in a larger and fainter disk of irregular form and vary uneven brightness distribution.
central star magnitude = 11.51
Alternate name Abell 36
Discovered by Abell in 1955

Note that this planetary nebula has an extremely low surface brightness and is assumed to be rather old. This type of object normally covers a much smaller area of the sky.
---
Planetary Nebulae: To learn more about them, click here.
---
Pk 318+41.1
Other ID: Abell 36
Magnitude: 16.3
Constellation: Virgo
RA: 13h 40m 37.8s
Dec: -19° 53' 10" Epoch 2000
Size (min): 4.9
Classification: Planetary nebula, Irregular disk, traces of ring structure.

---