Spiral Galaxy MCG 7-34-15 & Supernova 2000cs
---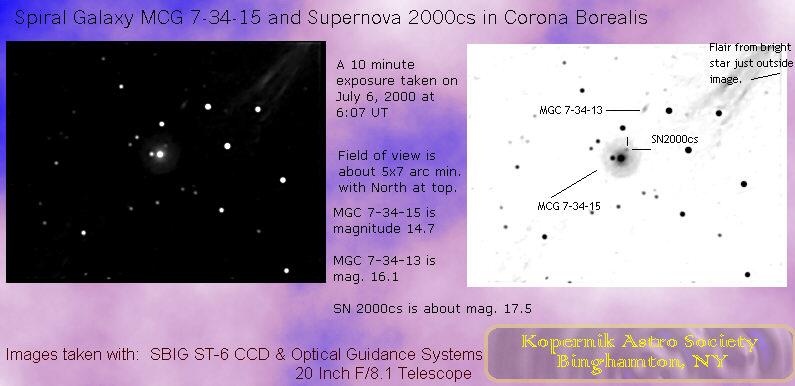 ---
A 10 minute exposure with an ST-6 CCD camera thru Kopernik's 20-inch F/8.1 Ritchey Chretien Cassegrain telescope. The field of view is about 5x7 arc minutes, with North at the top. Time: 6:07 UT, July 6th, 2000.
---
Supernova 2000cs:

Discovered: June 30th, 2000, by Amateur Astronomer Tim Puckett.

Magnitude 17.8 at discovery
Type II, before max brightness

Follow this Link to a NASA Web site on supernovas. It has a very nice animation and a description of what these objects are.
---
Spiral Galaxy MCG 7-34-15:

This face-on barred spiral galaxy is in the constellation of Corona Borealis. A rough distance estimate for this galaxy is 560 million light years, and at that distance, the diameter would be 130,000 light years. Note the Kopernik image also shows the even more distant spiral galaxy MCG 7-34-13.
---
MCG 7-34-15
Magnitude: 14.7
Constellation: Corona Borealis
RA: 16h 23m 32.7s
Dec: +39° 07' 15" Epoch 2000
Size (mins): 0.8'
Classification: Spiral Galaxy

---
Click below to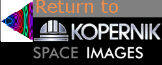 George Normandin, KAS
July 7th, 2000