NGC 935 and IC 1801
An Interacting pair of Spiral Galaxies
---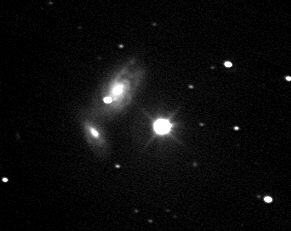 For a larger version, click here
---
This is a 12 minute exposure with an ST-6 CCD camera thru Kopernik's 20-inch F/8.1 Ritchey Chretien Cassegrain telescope. The field of view is about 5x7 arc minutes, with north at the top

NGC 935(top and brighter object in the image above) and IC 1801, are a pair of closely interacting spiral galaxies that appear to be in contract and possibly colliding.

This pair is included in Arp's catalog of unusual galaxies as ARP 276. Using the red shift data from the "NASA Extra-galactic Data Base(NED)", and a Hubble Constant of 62 Km per sec., per Megaparsec, one can calculate a rough distance and size for NGC 935 as: Distance = 218 million light years; Diameter = 108,000 light years. IC 1801 has nearly the same red shift, which shows that both galaxies are at nearly the same distance.

Both are in the IRAS catalog of infrared sources, and this indicates massive star formation. One current theory would suggest that these two are in the process of merging into a single elliptical galaxy. Some astronomers predict that this is the fate that awaits the Milky Way and spiral galaxy M-31 in about 5 billion years.
---
NGC 935 (ARP 276)
Magnitude: 13.6
Constellation:
RA: 02h 28m 10.9s
Dec: +19d 35' 58" Epoch 2000
Size (mins): 1.7 x 1.1

Classification: Scd
Spiral Galaxy


IC 1801 (ARP 276)
Magnitude: 14.6
Constellation: Aries
RA: 02h 28m 11.9s
Dec: +19d 34' 23" Epoch 2000
Size (mins): 1.3 x 0.6

Classification: Sbb
Spiral Galaxy, Barred

---
Click below to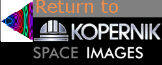 George Normandin, KAS
February 9th, 1998