Pegaus II Galaxy Cluster
Supernova 2001 ic (in NGC 7503)
This image shows only the central 8x12 arc minutes of the cluster, which is over 60 arc minutes in diameter.

These images are a mosaic of two 10 minute exposures with an ST-9E CCD camera thru Kopernik's 20-inch F/8.1 Ritchey Chretien Cassegrain telescope taken on December 12th, 2001 at 1:05 UT.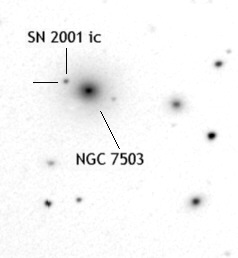 ---
Supernova 2001ic:

Discovered: December 7th, 2001, by LOTOSS.
Magnitude 17.4 at discovery.
Magnitude 18.5 in the Kopernik image.
Type: Ia
Astronomers at the Harvard-Smithsonian Center for Astrophysics, report that the supernova's expansion velocity is about 12,500 km/s.

Follow this Link to a NASA Web site on supernovas. It has a very nice animation and a description of what these objects are.
---
Galaxies NGC 7499, NGC 7501, and NGC 7503 make up the bright center of the Pegasus II Galaxy Cluster. This cluster is over 60 arc minutes in diameter and contains about 175 galaxies. This triplet of large elliptical galaxies is near the center of the bright X-ray source believed to be a tenacious and very hot gas at the center of the galaxy cluster.

Using the red shift data from the "NASA Extra-galactic Data Base(NED)", (and a Hubble Constant of 62 Km per sec., per Megaparsec), one can calculate a rough distance estimate for ther Pegasus II Galaxy Cluster, NGC 7503, and SN 2001 ic, of about 700 million light years.
---
NGC 7503
Magnitude: 14.4
Constellation: Pisces
RA: 23h 10m 42.2s
Dec: +07° 34' 03" Epoch 2000
Size (mins): 1.1'

Classification: Elliptical (uncertain)


NGC 7501
Magnitude: 14.7
RA: 23h 10m 30.5s
Dec: +07° 35' 19" Epoch 2000
Size (mins): 1.0'

Classification: Elliptical (uncertain)

NGC 7499
Magnitude: 14.7
RA: 23h 10m 22.4s
Dec: +07° 34' 53" Epoch 2000
Size (mins): 1.1' x 0.7'

Classification: Lenticular (uncertain)

MCG 1-59-3
Magnitude: 15.5
RA: 23h 10m 07.8s
Dec: +07° 33' 17" Epoch 2000
Size (mins): 0.8' x 0.2'

Classification: Lenticular (uncertain)
---
Click below to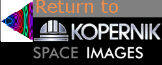 George Normandin, KAS
December 18th, 2001