NGC 7469 and IC 5283, aka Arp 298
A pair of Galaxies in Pegasus

This is a 12 minute exposure with an ST-6 CCD camera thru Kopernik's 20-inch F/8.1 Ritchey Chretien Cassegrain telescope.
The field of view is about 5x7 arc minutes.
---
This pair of interacting spiral galaxies is included in Arp's catalog of unusual galaxies as ARP 298. Computer models of galaxy collisions predict that one or two thin 'tails' of stars may form as gravitational forces pull stars from one or both galaxies. The Kopernik image shows a very faint extension from IC 5283. This galaxy is a very distorted spiral that is undergoing an unusually high rate of star formation. NGC 7469 also is undergoing a high rate of star formation in its rather detached spiral arms.

NGC 7469 has a small and very bright nucleus that varies in magnitude over short periods. It is one of a class of galaxies containing Active Galactic Nuclei know as Seyfert galaxies. (See also our page on galaxy M-77.) However, NGC 7469 is unusual in that it has an inner ring of gas very close to the nucleus that is undergoing massive star formation. The ring is seen in the Kopernik image and is fully resolved into star clusters in a Hubble Space Telescope image.
---
NGC 7469
Magnitude: 13.1
Constellation: Pegasus
RA: 23h 03m 15.6s
Dec: +08° 52' 29" Epoch 2000
Size (mins): 1.5' x 1.1'
Distance: 257 Million Light Years

Classification: Spiral Galaxy,
Seyfert type 1

Deep Sky Field Guide to U2000:

"Extremely bright nucleus, isolated detached arms."


IC 5283
Magnitude: 15.1
Constellation: Pegasus
RA: 23h 03m 18.2s
Dec: +08° 53' 35" Epoch 2000
Size (mins): 0.8' x 0.4'
Distance: 253 Million Light Years

Classification: Spiral Galaxy, Peculiar
---
Click below to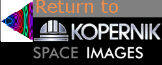 George Normandin, KAS
February 17th, 2001