Spiral Galaxy NGC 735 & Supernova 2000dj
---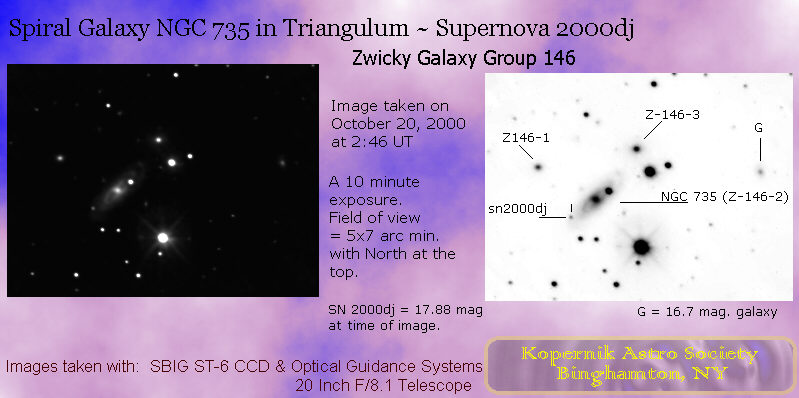 ---
A 10 minute exposure with an ST-6 CCD camera thru Kopernik's 20-inch F/8.1 Ritchey Chretien Cassegrain telescope. The field of view is about 5x7 arc minutes, with North at the top. Time: 2:46 UT, October 20th, 2000.
---
Supernova 2000dj:

Discovered: September 8th, 2000, by the Lick Observatory Supernova Search Team, and independently by M. Armstrong, Rolvenden, Kent, England.

Magnitude 17.0 at discovery
Type II
S. Benetti et al, of Telescopio Nazionale Galileo found "The average expansion velocity deduced from the minima of the Balmer lines is 9,800 km/s." from IAU 7491 9/15/00
The supernova is about magnitude 17.9 in the Kopernik image.

Follow this Link to a NASA Web site on supernovas. It has a very nice animation and a description of what these objects are.
---
Spiral Galaxy NGC 735:

NGC 735 is in the constellation of Triangulum. A rough distance estimate for this galaxy is 243 million light years, and at that distance, the diameter would be 127,500 light years. This is the brightest of three galaxies in Zwicky Galaxy Group 146. The other two compact elliptical galaxies are 16.2 and 16.4 magnitude. Another 16.7 magnitude galaxy appears to the right in our CCD image. NGC 735 was also the site of Supernova 1972l which reached a maximum magnitude of 15.0.
---
NGC 735
Magnitude: 13.8
Constellation: Triangulum
RA: 01h 56m 38.0s
Dec: +34° 10' 32" Epoch 2000
Size (mins): 1.8' x 0.8'
Classification: Spiral Galaxy.

---
Click below to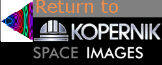 George Normandin, KAS
October 20th, 2000