Planetary Nebula NGC 7293, aka "The Helix Nebula", in Aquarius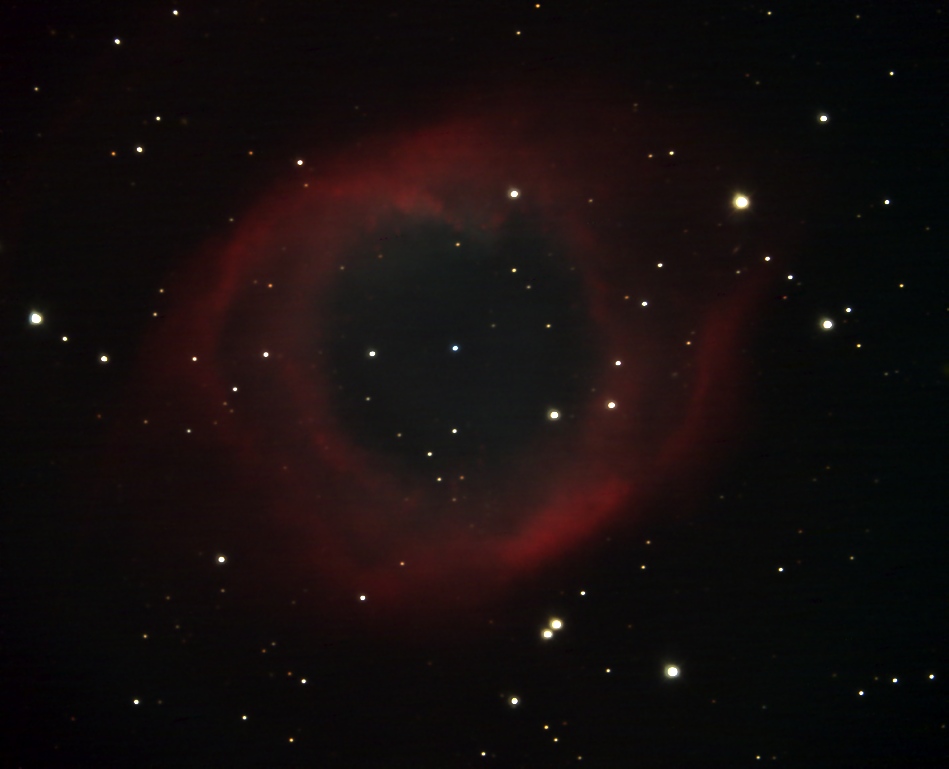 CCD image taken with a ST-1301E CCD camera thru Kopernik's 20 inch F/8.1 telescope working at F/5.3. The exposure was 60 minutes. The field of view is approximately 20x25 arc minutes, with North at the top.
---
Dreyer's description in The New General Catalog(NGC):
"Remarkable! Pretty faint, very large, extended or binuclear."
---
NGC 7293 (The Helix Nebula), in the Constellation of Aquarius, is probably the nearest of the planetary nebulae. In a small backyard telescope, or even large binoculars, it appears as a large but dim ghostly glow, a little dimmer in the center.

The Helix appears to be a filled doughnut of material, but astronomers now believe that it is actually a tube of gas pointed directly at Earth. It is this orientation that makes it look like a doughnut. The central star, which created the nebula, is a white dwarf star. The teal blue/green color in the center comes from the doubly ionized Oxygen (O-III) that it contains, while the red color is from ionized Hydrogen (H-II). The Kopernik image above shows a little of the dim outer parts of the nebula (upper left), and the comet-like shapes pointing toward the central star. The Helix Nebula is about 690 light years away.

Planetary Nebulae: To learn more about them, click here

Click here to see the Hubble Space Telescope image of the Helix Nebula, and more information on this nebula's shape
---
NGC 7293, aka "The Helix Nebula"
Other ID: Pk 36-57.1
Constellation: Aquarius
RA: 22h 29m 36.0s
Dec: -20° 48' 00" Epoch 2000
Size (min) 12.8
Classification: planetary nebula, with disk, ring, and central star.

---
George Normandin, KAS
November 10th, 2008