Globular Star Cluster NGC 7006
Spiral Galaxy MCG 3-53-11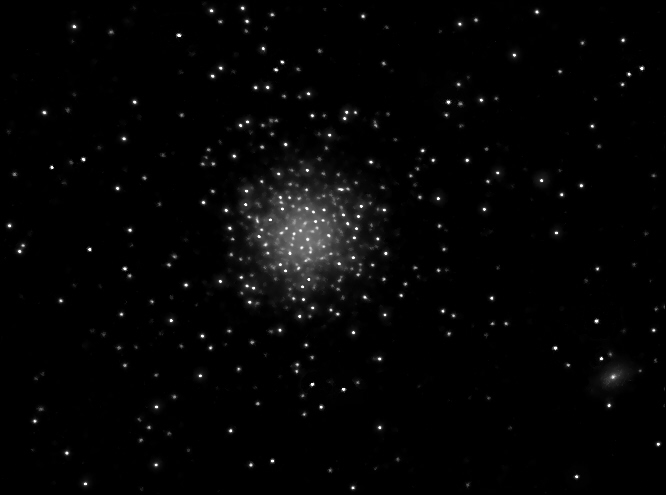 CCD image taken with a Starlight Xpress MX-716 CCD camera thru a 20-inch F/8.1 telescope working at F/5. The field of view is about 5x7 arc minutes with North at the top.
The small object at the lower right is 16th magnitude Spiral Galaxy MCG 3-53-11.
---
Description of Globular Star Cluster NGC 7006 in
Burnham's Celestial Handbook:
An exceedingly remote globular star cluster, probably the farthest object of its type with the exception of the well known NGC 2419 in Lynx, which may actually be an extra-galactic object. NGC 7006 appears to be about 150,000 light years from the center of our Galaxy and some 185,000 light years from the Solar System. This is almost comparable to the distances of the Magellanic Clouds and suggests that these two clusters might possibly be regarded as extra-galactic objects.

Despite its vast distance, NGC 7006 is visible in a 6-inch telescope as a fuzzy spot of magnitude 11.5, about 1' in apparent size. The diameter increases to about 2.2' on long exposure photographs, giving a true size of about 120 light years. This is one of the most difficult of all globulars to resolve, since even the brightest members are of the 16th magnitude. Allowing for a certain loss of light through absorption by interstellar dust, the true luminosity of the cluster appears to be about 130,000 times that of the Sun, and the absolute magnitude is near -8. The integrated spectral type is F1. This cluster shows a very large radial velocity of 215 miles per second in approach.

Harlow Shapley's observations (in 1930) of eleven RR Lyrae type stars in NGC 7006 showed it to be about five times as remote as M3 or M5, certainly the most distant globular known at the time. On the other side of the Galaxy the most distant system appears to be NGC 2298 in Puppis; the separation of these two globulars must be slightly over a quarter of a million light years. The size of the Galaxy is thus more than doubled when these clusters are used as boundary markers! The validity of this approach, however, now appears somewhat doubtful owing to the .... discovery of a number of other very distant and extremely faint globulars on the Palomar 48-inch Sky Survey plates. Some of these are evidently true inter-galactic objects, so it now appears possible to regard NGC 7006 and NGC 2419 as either the most distant members of the Galaxy or the nearest of the intergalactic clusters.
---
NGC 7006
Magnitude: 10.6
Constellation: Delphinus
RA: 21h 01m 30.0s
Dec: +16° 11' 00" Epoch 2000
Size (mins): 2.8'
Classification: Globular Cluster

---