Planetary Nebula NGC 6894 in Cygnus
---

CCD image taken with a ST-6 CCD camera thru Kopernik's 20 inch F/8 telescope. The field of view is approximately 5x7 arc minutes.
---
Dreyer's description in The New General Catalog(NGC):
Very remarkable! Ring, faint, small, very, very little extended.
From TheDeep Sky Field Guide to Uranometria 2000:
---
NGC 6894 (Other ID: PK 69-2.1)
Magnitude: 14.4(p), 12.3(v)
Constellation: Cygnus
RA: 20h 16m 25.0s
Dec: +30° 34' 18" Epoch 2000
Size (sec): 42"
Classification: planetary nebula, ring & disk.

---
Click below to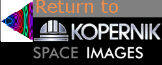 George Normandin, KAS
November 10th, 2000