Elliptical Galaxy NGC 6841
Also: Spiral Galaxies ESO 461-24 & ESO 461-25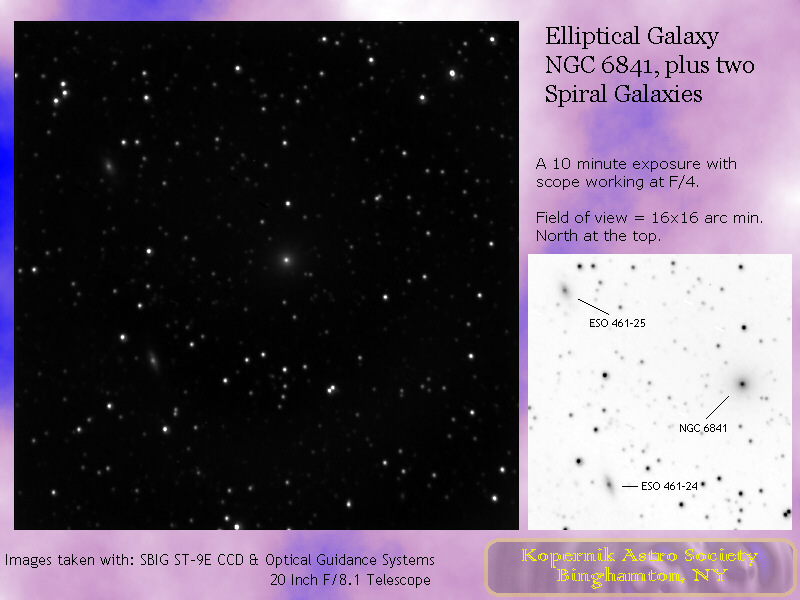 A 10 minute exposure taken with ST-9E CCD camera thru Kopernik's 20 inch telescope. The scope was focal reduced to F/4. The field of view is about 16x16 arc minutes, with North at the top.
---

Quote on NGC 6841 from Dreyer's New General Catalog(NGC):

"Very faint, small, round, pretty abruptly brighter middle."

There is not much information on these three galaxies in Sagittarius including a lack of red-shift data for NGC 6841 and ESO 461-24. They are possibly a loosely related group. Both of the spiral galaxies have peculiar shapes and both are infrared and radio sources. Based on its red shift, a rough distance estimate for galaxy ESO 461-25 is 340 million light years.
---
NGC 6841
Magnitude: 13.4
Constellation: Sagittarius
RA: 19h 57m 49.1s
Dec: -31° 48' 35" Epoch 2000
Size (mins): 1.5' x 1.4'

Classification: E0:, Elliptical(uncertain)


ESO 461-24
Magnitude: 15.1
RA: 19h 58m 07.2s
Dec: -31° 52' 16" Epoch 2000
Size (mins): 1.1' x 0.4'

Classification: Sa: pec sp, Spiral(uncertain), peculiar, spindle shaped




ESO 461-25
Magnitude: 14.5
RA: 19h 58m 17.0s
Dec: -31° 46' 21" Epoch 2000
Size (mins): 1.3' x 0.9'

Classification: Spiral Galaxy, peculiar
---
Click below to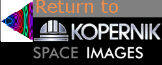 George Normandin, KAS
October 23rd, 2001