Planetary Nebula NGC 6369 in Ophiuchus
---

CCD image taken with a ST-6 CCD camera thru Kopernik's 20 inch F/8 telescope. The exposure was 10 minutes. The field of view is approximately 5x7 arc minutes, with north at top.
---
Dreyer's description in The New General Catalog(NGC):
Very remarkable! Ring, pretty bright, small, round.
---
NGC 6369 was discovered in 1784 by W. Herschel. This planetary nebula is sometimes known as "The Little Ghost". The central star is magnitude 15.6, and the ring is about 30 arc seconds in diameter.

Planetary Nebulae: To learn more about them, click here.
---
NGC 6369 (Other ID: PK 2+5.1)
Magnitude: 11.4
Constellation: Ophiuchus
RA: 17h 29m 18.0s
Dec: -23° 46' 00" Epoch 2000
Size (sec) 30.0"
Classification: planetary nebula

---
Click below to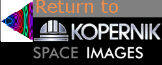 George Normandin, KAS
September 18th, 2000