Planetary Nebula NGC 6309 aka "The Box Nebula"
---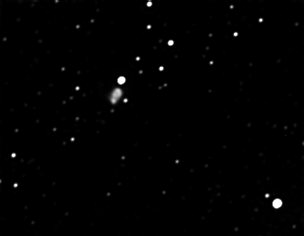 CCD image taken with a ST-6 CCD camera thru Kopernik's 20 inch F/8 telescope. The exposure was 10 minutes. The field of view is approximately 5x7 arc minutes, with north at top.
---
Description in The Deep Sky Field Guide to Uranometria 2000:
Irregular disk with traces of ring structure involved in a larger, fainter halo of nebulosity, anomalous in form. Central star magnitude = 13. Diameter = 16 arc seconds. Magnitude 10.8 photographic, 11.5 visual.
---
NGC 6309 was discovered in the mid 19th Century by Tempel but it was first identified as a planetary nebula by Pickering in 1882. Our exposure is too short to show the very faint outer parts of the nebula.

Planetary Nebulae: To learn more about them, click here.
---
NGC 6309 (Other ID: PK 9+14.1)
Magnitude: 11.5
Constellation: Ophiuchus
RA: 17h 14m 06.0s
Dec: -12° 55' 00" Epoch 2000
Size (sec) 16.0"
Classification: planetary nebula

---
Click below to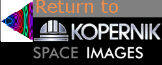 George Normandin, KAS
September 17th, 2000