Galaxies NGC 6104 and MCG 6-36-12
Supernova 2002de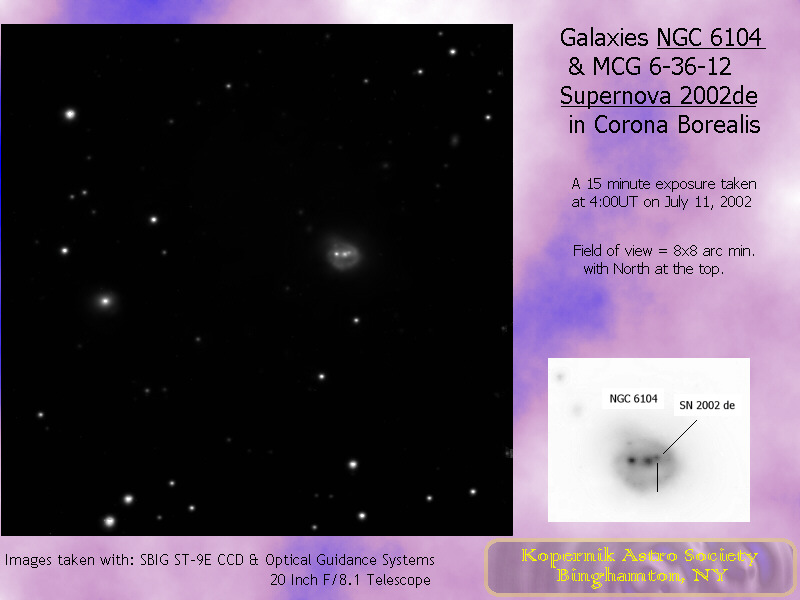 This is an 15 minute exposure with an ST-9E CCD camera thru Kopernik's 20-inch F/8.1 Ritchey Chretien Cassegrain telescope taken on July 11, 2002 at 4:00 UT. The field of view is 8x8 arc minutes with North at the top.
---
Supernova 2002de:

Discovered: June 1, 2002, by the LOTOSS supernova group's Katzman Automatic Imaging Telescope (KAIT).
Magnitude 16.0 at discovery.
Type Ia
The expansion velocity is 12,000 km/s.

Follow this Link to a NASA Web site on supernovas. It has a very nice animation and a description of what these objects are.
---
NGC 6104, the host of Supernova 2002de, is a highly disturbed Spiral Galaxy in the Constellation of Corona Borealis. It has a bright nucleus, a nuclear bar, and a strongly disturbed spiral pattern that appears like a ring in the Kopernik image above. This galaxy has a Seyfert type Active Galactic Nucleus.

MCG 6-36-12 is the 15th magnitude elliptical galaxy that is to the left of NGC 6104 in the picture above. Another dim galaxy is in the upper right of the image. All three of these galaxies have about the same red shift.

Using the red shift data from the "NASA Extra-galactic Data Base(NED)", (and a Hubble Constant of 62 Km per sec., per Megaparsec), one can calculate a rough distance estimate for these galaxies, and SN 2002de, of about 440 million light years.
---
NGC 6104
Magnitude: 14.2
Constellation: Corona Borealis
RA: 16h 16m 30.5s
Dec: +35° 42' 25" Epoch 2000
Size (mins): 0.8' x 0.7'

Classification: S(R)pec

Spiral Galaxy, Outer Ring, peculiar, Seyfert Type I

Dreyer description in the NGC:

"Very faint, small, irregularly round."


MCG 6-36-12
Magnitude: 15.4
RA: 16h 16m 50.0s
Dec: +35° 42' 07" Epoch 2000
Size (mins): 0.5' x 0.5'

Classification: E2

Elliptical Galaxy



---
Click below to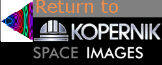 George Normandin, KAS
July 11th, 2002