NGC 6051, IC 4588, Galaxies in Serpens Cauda
Galaxy Cluster AWM 4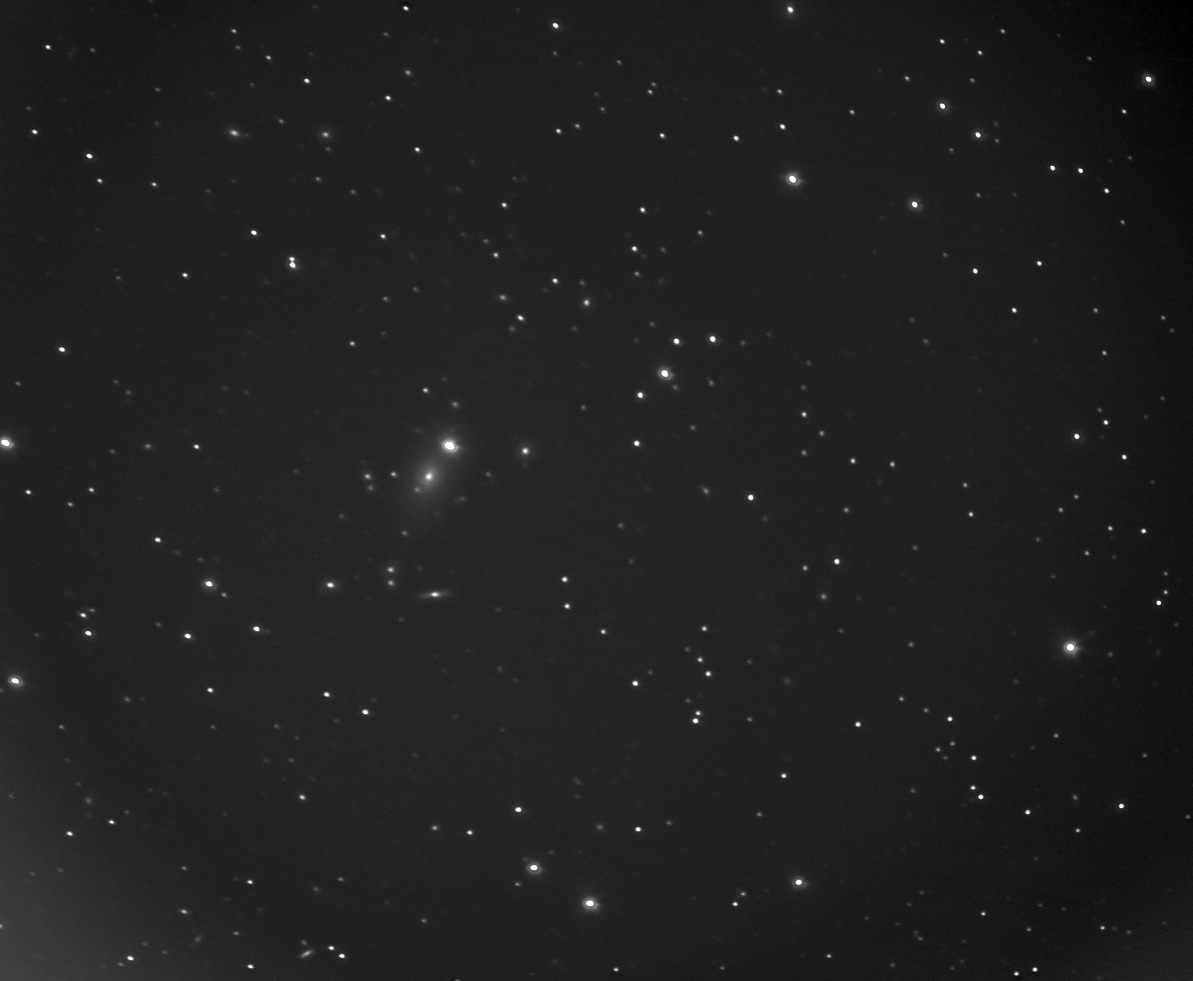 For a Negative version of this image with the galaxies identified, click here.
This is a 15 minute exposure with an ST-1301E CCD camera thru Kopernik's 20-inch F/8.1 Ritchey Chretien Cassegrain telescope focal reduced to about F/5.1. The field of view is about 20 x 23 arc minutes, with South at the top.
---
NGC 6051, IC 4588, and about 15 other galaxies form a small and very distant Galaxy Cluster (AWM 4) in the Constellation of Serpens Cauda. Only one of the group is an obvious Spiral Galaxy. All of the others are Elliptical Galaxies. The distance to this small cluster is roughly 493 Million Light Years, (assuming a Hubble Constant of H0 = 62 Km/Megaparsec - with relativistic adjustment). NGC 6051 is 190,000 light years across. This group is a component of the very large Hercules Super Cluster of Galaxies. There are a number of other anonymous galaxies in the image, most of which have about the same red shift - meaning that they are probably at about the same distance.

NGC 6051 is a giant type of galaxy known as a "Cluster Dominant Elliptical". These galaxies are possibly the result of the merger of several smaller galaxies and are always found near the center of a galaxy cluster.

IC 4588 is sometimes described as "non-existent". However it is very close to its IC position southeast of NGC 6051. Dreyer added a note to (discoverer) Javelle's description mentioning the NGC galaxy, and this has caused some confusion. The most recent galaxy catalogs have given IC 4588 back its rightful place. Admittedly, this distant elliptical galaxy appears very dim and tiny.
---
NGC 6051
Magnitude: 14.3
Constellation: Serpens Cauda
RA: 16h 04m 56.6s
Dec: +23° 55' 57" Epoch 2000
Size (mins): 1.3' x 0.8'

Classification: Cluster Dominant Giant Elliptical Galaxy

Dreyer's Description in the NGC:

"Faint, small, round, gradually brighter middle nucleus, 10th magnitude star southeast."


IC 4588
Magnitude: ??
RA: 10h 13m 44.9s
Dec: +03° 25' 31" Epoch 2000
Size (mins): 0.2' x 0.2'

Classification: Dwarf Elliptical Galaxy

AWM 4

Classification: Galaxy Cluster
---
George Normandin, KAS
June 1st, 2006