Barred Spiral Galaxy NGC 5921 & Supernova 2001x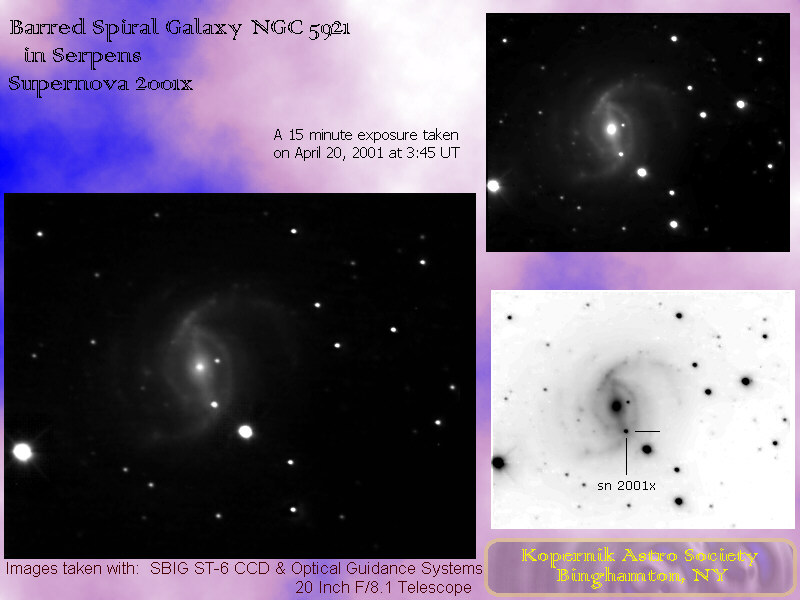 ---
A 15 minute exposure with an ST-6 CCD camera thru Kopernik's 20-inch F/8.1 Ritchey Chretien Cassegrain telescope. The field of view is about 5x7 arc minutes, with North at the top. Time: 3:45 UT, April 20th, 2001.

Click here for pictures showing NGC 5921 with (4/20/01) and without (Aug 95) supernova 2001x.
---
Supernova 2001x:

Discovered February 27th, 2001, by the Beijing Astronomical Observatory (BAO) Supernova Survey.
Magnitude 17.0 at discovery
Type II.
The supernova is magnitude 15.5 in the Kopernik image.
Follow this Link to a NASA Web site on supernovas. It has a very nice animation and a description of what these objects are.
---
Barred Spiral Galaxy NGC 5921:

NGC 5921 is located in the Constellation of Serpens. The disk is full of H II regions in the two spiral arms that emerge from the ends of the stellar bar, where many H II regions are clumped. The nucleus is very bright and compact, and it seems to connect with the string of H II regions along the bar. All of the many H II regions show intensive star formation. The star formation is enhanced at both ends of the bar.
---
NGC 5921
Magnitude: 11.7
Constellation: Serpens
RA: 15h 21m 56.3s
Dec: +05° 04' 11" Epoch 2000
Size (mins): 4.8' x 4.0'
Classification: Barred Spiral Galaxy
---
Click below to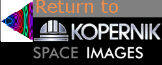 George Normandin, KAS
April 23rd, 2001