Spiral Galaxy NGC 5907 in Draco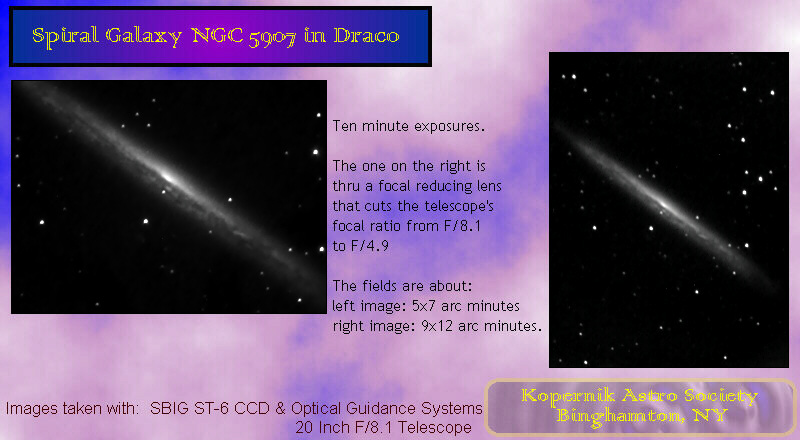 ---
NGC 5907 in the Constellation of Draco is a bright and nearby Spiral Galaxy with an almost edge-on orientation at an inclination angle of 88 degrees. Based on the published red shift, (Hubble Constant of 62 Km/sec per Mpc) a rough distance estimate is 35 million light years, with a diameter of about 130,000 light years. The nuclear bulge is quite small and is almost hidden behind the opaque dust lane, which causes the color of the nucleus to be heavily reddened. It appears that the outermost spiral arms can be seen at either end of the spindle, and their sense of opening can be inferred. Spectroscopic observations show that the south end of the spindle is approaching.

The New General Catalog gives two catalog numbers for this object: NGC 5906 is the part of NGC 5907 that is west of the dust lane.
---
NGC 5907 & 5906
Magnitude: 11.3
Constellation: Draco
RA: 15h 15m 52.9s
Dec: +56d 19' 33" Epoch 2000
Size (mins): 12.4 x 1.4
Classification: SA(s)c: sp II
Spiral, S-shaped (uncertain), spindle shaped, Luminosity class II.


---
Click below to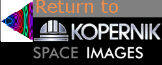 George Normandin, KAS
September 16th, 1998
Revised: Oct. 27, 2002