Galaxy NGC 5701
---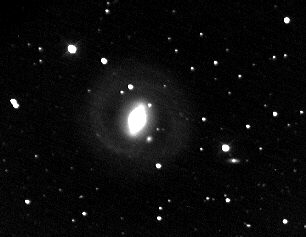 CCD Image of the rather unusual Galaxy NGC 5701 in the Constellation Virgo. The inner parts seem to be a barred Lenticular, while the galaxy is surrounded by a faint ring, with H II regions, similar to the arms of a spiral galaxy. There are two small anonymous galaxies in the image, one is superimposed on NGC 5701.
This is a 12 Minute exposure using an SBIG ST-6 CCD camera thru Kopernik's 20 inch telescope (working at F/4.9). North at top; the field of view is about 9x12.5 arc minutes.
---
Click here to see a more detailed (large size) version of this image with an identification of the two companion galaxies.
---
Description of NGC 5701 in The Deep Sky Field Guide to Uranometria 2000:

Small, very bright diffuse nucleus, bright inner lens 0.55x0.55 arc minutes, bright bar 1.3x0.3 arc minutes. Small companion visible between lens and outer ring at 0.9 arc minutes, Southwest (superimposed), .35x.30; companion at 4.1 arc minutes West, approximately 16th magnitude, .5x.12 arc minutes in size.

Description of NGC 5701 in The Astrophysical Journal, 1993, 106.1405P:

This galaxy is a nearly face-on SB0/a galaxy with a faint nuclear source and a large, sparse ring of H II regions in the outer disk of the galaxy, well beyond the bar. .....the outer ring region is also faintly visible.......on the POSS plates.
---
This is the data on NGC 5701:
Magnitude: 12.0
RA: 14h 39m 12.0s
Dec: +05d 22' 00" Epoch 2000
Size (mins) 4.0 x 3.5
Constellation Draco
A Barred Lenticular Galaxy, with Outer Ring
---
Click below to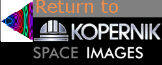 George Normandin, KAS
August 22nd, 1997