Lenticular Galaxy NGC 524 & Supernova 2000cx
---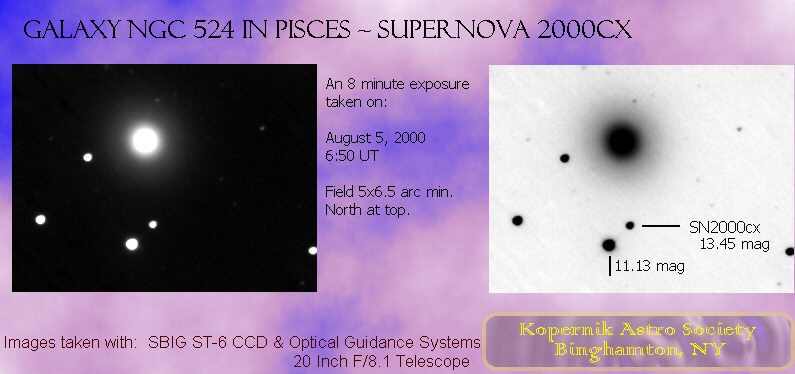 ---
An 8 minute exposure with an ST-6 CCD camera thru Kopernik's 20-inch F/8.1 Ritchey Chretien Cassegrain telescope. The field of view is about 5x6.5 arc minutes, with North at the top. Time: 6:50 UT, August 5th, 2000.
---
Supernova 2000cx:

Discovered: July 17th, 2000, by Lick Observatory Supernova Search.

Magnitude 14.5 at discovery
Type Ia-pec
From IAU Circular 7463: "....a CCD spectrum ..... obtained on July 23 UT with the Nickel 1-m reflector at Lick Observatory reveals that the object is a peculiar type-Ia supernova, strongly resembling the over-luminous SN 1991T a few days before maximum brightness.....The object is in the outskirts of the host galaxy, which has a Hubble type of S0 (i.e. Lenticular); this is the first time that a SN 1991T-like type-Ia object has been seen in such an early-type galaxy, in a region devoid of obvious dust and massive stars. Frequent observations at all wavelengths are encouraged. "

Follow this Link to a NASA Web site on supernovas. It has a very nice animation and a description of what these objects are.
---
Lenticular Galaxy NGC 524:

This face-on lenticular galaxy is in the constellation of Pisces. A rough distance estimate for this galaxy is 130 million light years, and at that distance, the diameter would be 105,000 light years.

Quote from G. and A. DE VAUCOULEURS, "REFERENCE CATALOGUE OF BRIGHT GALAXIES":

"Extremely bright nucleus in a very bright, inner smooth part: 0.9 arc min x 0.8 arc min. Very weak, narrow rings, or arcs, outline lens...... In a group of 3 lenticulars and Sa spirals + others."
---
NGC 524
Magnitude: 11.5
Constellation: Pisces
RA: 01h 24m 47.8s
Dec: +09° 32' 21" Epoch 2000
Size (mins): 2.8' x 2.7'
Classification: Lenticular Galaxy

---
Click below to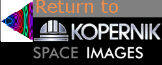 George Normandin, KAS
August 5th, 2000