NGC 520, An Interacting pair of Spiral Galaxies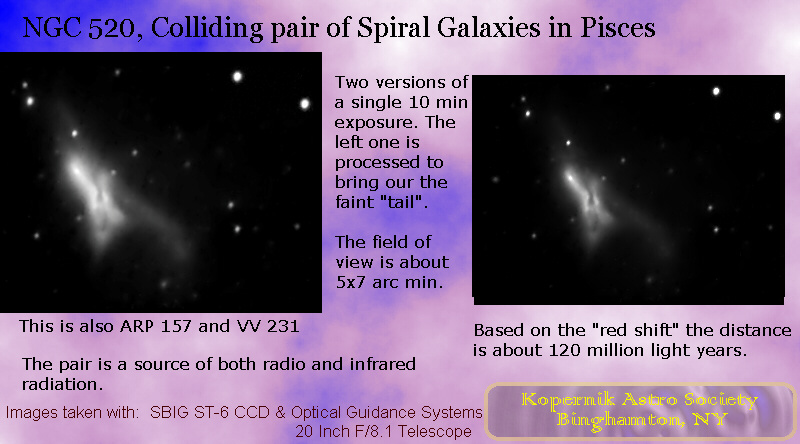 This is a 10 minute exposure with an ST-6 CCD camera thru Kopernik's 20-inch F/8.1 Ritchey Chretien Cassegrain telescope.
---
As late as the 1960s Hubble, Holmberg, and others considered NGC 520 as an "exploding galaxy", but Astronomers now believe that it is a pair of closely interacting and possibly colliding spiral galaxies, seen edge-on.

This pair is included in Arp's catalog of unusual galaxies as ARP 157. Using the red shift data from the "NASA Extra-galactic Data Base(NED)", and a Hubble Constant of 62 Km per sec., per Megaparsec, one can calculate a rough distance and size for NGC 520 as: Distance = 120 million light years; Diameter = 154,000 light years.

NGC 520 is in the IRAS catalog of infrared sources, and this indicates massive star formation. The object also contains a number of radio sources. One current theory would suggest that these two are in the process of merging into a single elliptical galaxy(See Sky & Telescope, March 1998). Some astronomers predict that this is the fate that awaits the Milky Way and spiral galaxy M-31 in about 5 billion years.

Quote from 1995 Astrophysical Journal Supplement ...98..477H

This galaxy shows very obvious tidal features, a highly disturbed morphology, and prominent dust lanes. Numerical simulations suggest that NGC 520 is a merger remnant resulting from two disk galaxies colliding ~ 300,000,000 yr ago (Stanford & Barcells 1991), thereby giving rise to the enhanced star formation observed (Stanford 1991). Our spectra, extracted over the brightest central knot, most likely coincides with the primary nucleus, which, according to Stanford (1991), has the most elevated star formation activity. The emission and absorption features seen in our spectra are consistent with a very young stellar population.
---
NGC 520 (ARP 157)
Magnitude: 12.1
Constellation: Pisces
RA: 01h 24m 34.7s
Dec: +03d 47' 49" Epoch 2000
Size (mins): 4.4 x 1.8

Description in The Deep Sky Field Guide to Uranometria 2000:


Nearly edgewise, colliding or strongly interacting pair of spirals, fainter component SW of brighter.

---
Click below to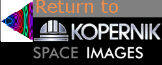 George Normandin, KAS
January 14th, 2003