NGC 5054 and MCG -3-34-40
A pair of Spiral Galaxies
Supernova 2004 ab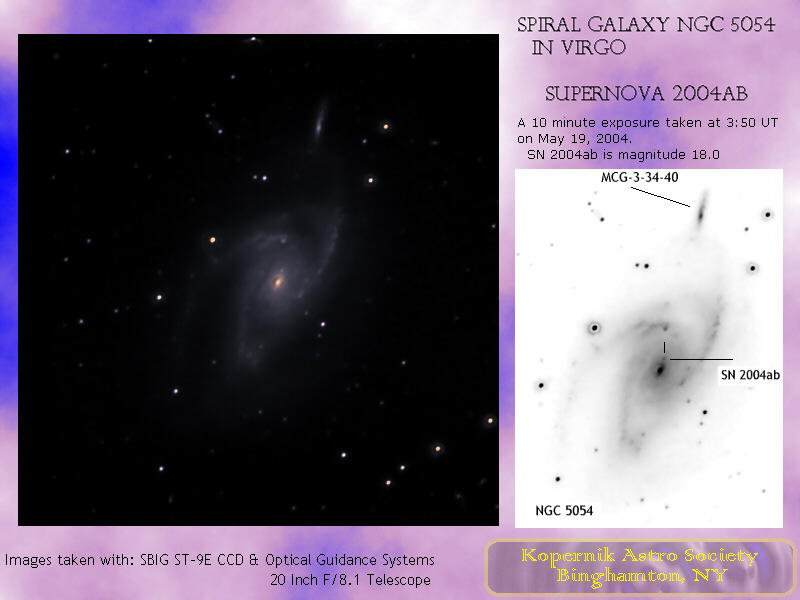 This is a 10:5:5:5 minute LRGB exposure with an ST-9E CCD camera thru Kopernik's 20-inch F/8.1 Ritchey Chretien Cassegrain telescope taken at 3:50UT on May 19, 2004. The field of view is about 9x9 arc minutes with North at the top.
---
Supernova 2004 ab:

Discovered: February 21, 2004, by Berto Monard
Magnitude: 14.7 at discovery and 18.0 in the Kopernik image.
Type: Ia
The supernova expansion velocity is 10,400 km/s.
---
Spiral Galaxy NGC 5054 is an outlying member of the NGC 5044 Galaxy Group. However, the redshift is different enough from the group red shift to suggest a foreground location. There are three main arms. The two high-surface-brightness arms are studded with H-II regions. Note the faint surface brightness of the spiral pattern at the outer extensions of the main arms. This galaxy has a small, very bright, complex nucleus with a possible ring structure.

Galaxy MCG -03-34-040 is located about 3 arc minutes to the north. It appears to be a spiral galaxy that is possibly interacting with NGC 50540, but it may also be a distant background galaxy. There is no certain evidence of interaction and astronomers have not determined this galaxy's red shift.

Using the red shift data from the "NASA Extra-galactic Data Base(NED)", (and a Hubble Constant of 62 Km per sec., per Megaparsec), one can calculate a rough distance for NGC 5054 and Supernova 2004ab of 92 million light years. At that distance the galaxy diameter would be 136,900 light years.
---
NGC 5054
Magnitude: 11.5
Constellation: Virgo
RA: 13h 16m 58.4s
Dec: -16° 38' 07" Epoch 2000
Size (mins): 5.1' x 3.0'

Classification: SA(s)bc

Spiral Galaxy, S-shaped, Luminosity Class I-II

Deep Sky Field Guide:

"Small, very bright nucleus, three main bright arms."


MCG -3-34-40
Magnitude: 16.0
RA: 13h 17m 04.2s
Dec: -16° 35' 48" Epoch 2000
Size (mins): 0.8' x 0.2'

Classification: Spiral ?

Spiral Galaxy,
Possibly interacting with NGC 5054, but it may also be a distant background galaxy.
---
Click below to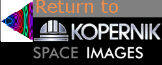 George Normandin, KAS
May 31st, 2004