Barred Spiral Galaxy NGC 495, with Supernova 1999ej
Also: Galaxies NGC 498, NGC 499, & PGC 05026
---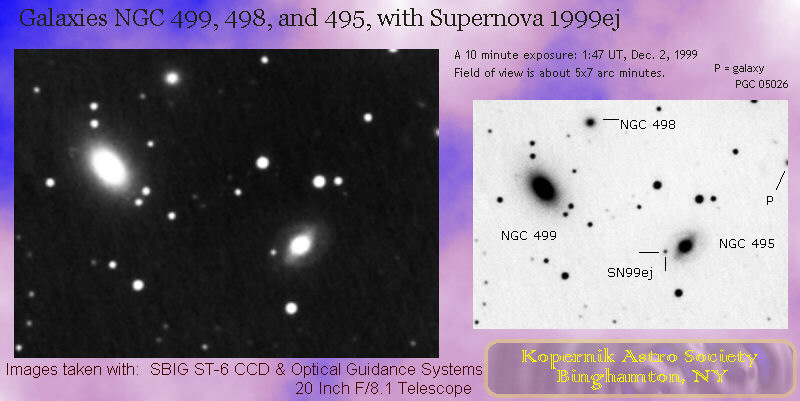 Supernova 1999ej: The Lick Observatory Supernova Search Team discovered Supernova 1999ej on October 18th 1999 when it was about magnitude 18.1 and on the rise. It reached a maximum of around 16th magnitude in early November, and was about 17th mag when imaged at Kopernik. It is a Type Ia supernova.

The galaxies: NGC 498, NGC 499 and perhaps PGC 05026, are typical lenticular or elliptical galaxies, a type often found near the center of galaxy clusters. However, NGC 495, the host of Supernova 1999ej, is a somewhat peculiar barred spiral galaxy. It's spiral arms sweep back to form a nearly complete outer ring.

The galaxy cluster: William Herschel, the great 18th Century astronomer, found a dim group of 6 objects in Pisces. His group includes the 3 galaxies in our picture, and NGCs 496 and 507. However, for over a hundred years thereafter the group proved elusive. This led to Dreyer's mistake of cataloging the same galaxy as both NGC 499 and IC 1686. In 1992 M. Han and J. Mould concluded that these galaxies, plus at least a half dozen others, make up a true gravitationally bound galaxy cluster. This cluster has the unromantic name of HMS0122+3305. It and a dozen or so other galaxy clusters, form bright knots along a river of thousands of galaxies known as the Perseus-Pisces (P-P) Super Cluster. The self-named "Seven Samurai" astronomers have put forth the controversial idea that all of the P-P galaxies, and many others including our own Milky Way Galaxy, are moving toward a single point that they call "The Great Attractor" (GA). If this is so, the GA must be extremely massive. Unfortunately, the stars and dust of the Milky Way block any possible view of it.
For a (large) map that has this image embedded, click here.
---
Data on Supernova 1999ej:

Discovered: Oct. 18th, 1999
RA: 1h 22m 57s.38
Dec: +33 Deg 27' 58".0
Magnitude: 17(in picture)
Type: Ia

Galaxy NGC 495:

Magnitude: 13.9
RA: 01h 22m 56.0s
Dec: +33° 28' 17" Epoch 2000
Size: (mins) 1.3' x 0.8'
Constellation: Pisces
Type: Barred Spiral, S-shaped,
peculiar, with pseudo outer ring.

Galaxy NGC 498:

Magnitude: 16.0
RA: 01h 23m 11.1s
Dec: +33° 29' 21" Epoch 2000
Size: (mins) 0.3'
Constellation: Pisces
Type: Lenticular.


Galaxy NGC 499:

Magnitude: 12.9
RA: 01h 23m 11.5s
Dec: +33° 27' 36" Epoch 2000
Size: 1.6' x 1.3'
Constellation: Pisces
Type: Lenticular.
---
Follow this Link to a NASA Web site on supernovas. It has a very nice animation and a description of what these objects are.
---
Click below to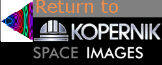 George Normandin, KAS
December 4th, 1999