NGC 4676 (aka Arp 242)
"The Mice"- An Interacting pair of Galaxies
---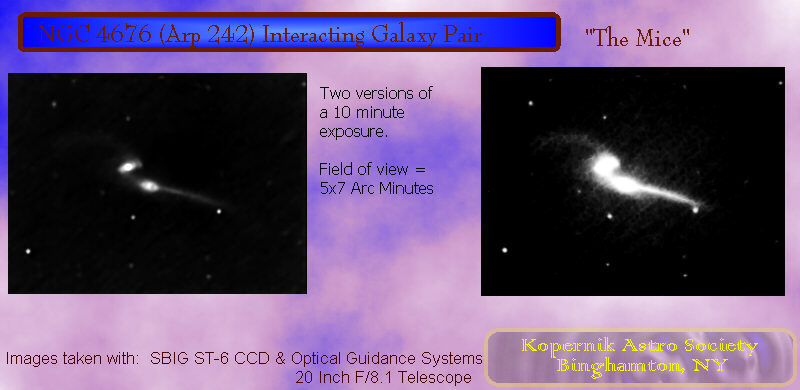 This is a 10 minute exposure with an ST-6 CCD camera thru Kopernik's 20-inch F/8.1 Ritchey Chretien Cassegrain telescope. The field of view is about 5x7 arc minutes, with west at the top.
---
NGC 4676, nicknamed "The Mice", is a pair of closely interacting galaxies. There is a very thin bright tail extending from the northern galaxy (NGC 4676A), and a dimmer broad tail extending from the other (NGC 4676B). There is also a bridge that connects the two. Thus it seems that these galaxies have actually collided, unlike the similar pair Arp 270. Both of "The Mice" are in the IRAS catalog of infrared sources, and this indicates massive star formation.

This pair is included in Arp's catalog of unusual galaxies as ARP 242. Using the red shift data from the "NASA Extra-galactic Data Base(NED)", and a Hubble Constant of 62 Km per sec., per Megaparsec, one can calculate a rough distance for The Mice as: 350 million light years.
---
NGC 4676A (ARP 242)
Magnitude: 13.8
Constellation: Coma Berenices
RA: 12h 46m 10.2s
Dec: +30° 44' 00" Epoch 2000
Size (mins): 2.3' x 0.7'


Classification: SO pec?

Lenticular, peculiar
(type uncertain)

Dreyer description (NGC):

"Very faint, westward moderately extended; binuclear?"

NGC 4676B (ARP 242)
Magnitude: 14.0
Constellation: Coma Berenices
RA: 12h 46m 11.3s
Dec: +30° 43' 28" Epoch 2000
Size (mins): 2.2' x 0.8'


Classification: SB(s)0/a pec

Barred Spiral, s-shaped, peculiar


---
Click below to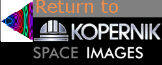 George Normandin, KAS
August 3rd, 2000