NGC 4435 and NGC 4438, aka Arp 120 or "The Eyes"
A pair of Galaxies in Virgo

This is a 12 minute exposure with an ST-6 CCD camera thru Kopernik's 20-inch F/8.1 Ritchey Chretien Cassegrain telescope.
The field of view is about 5x7 arc minutes with North at the top.
---
This pair of galaxies in Virgo, also known as "The Eyes", is included in Arp's catalog of unusual galaxies as Arp 120.

NGC 4438 has a set of smooth luminous plumes that are too faint to appear in the Kopernik image above. This image only shows the large central bulge that has dust patches asymmetrically running across it. Astronomers originally believed that these two galaxies were an interacting pair. However, they have very different red shifts, and are thus not likely to be close together. Also, NGC 4435 shows no evidence of tidal effects. Currently astronomers believe that this pair is just a line-of-sight grouping. NGC 4438 is either itself a pair of nearly merged galaxies, or it is being disturbed by one of the other nearby members of the Virgo Cluster.
---
NGC 4435
Magnitude: 11.7
Constellation: Virgo
RA: 12h 27m 40.5s
Dec: +13° 04' 48" Epoch 2000
Size (mins): 2.8' x 2.0'

Classification: SB(s)0, Barred Spiral,
Galaxy

Deep Sky Field Guide to U2000:

"Very bright nucleus in bright bar with spherical envelope."


NGC 4438
Magnitude: 10.9
Constellation: Virgo
RA: 12h 27m 45.5s
Dec: +13° 00' 36" Epoch 2000
Size (mins): 8.6' x 3.2'

Classification: Spiral Galaxy, Peculiar

Deep Sky Field Guide to U2000:

"Very small, bright nucleus in bright bulge partly hidden by strong complex dark lane."
---
Click below to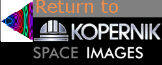 George Normandin, KAS
July 2nd, 2002