NGC 4319 and MK 205 - Galaxies in Draco
An Example of the possible Quasar Red Shift Controversy.
This is a 7.5 minute exposure with an ST-6 CCD camera thru Kopernik's 20-inch F/8.1 Ritchey Chretien Cassegrain telescope. The field of view is about 5x7 arc minutes, with east at the top.
---
---
NGC 4319
Magnitude: 12.8
Constellation: Draco
RA: 12h 21m 43.9s
Dec: +75° 19' 28" Epoch 2000
Size (mins): 2.9' x 2.3'

Classification: SB(r)ab
Barred Spiral Galaxy, Inner Ring



MK 205
Magnitude: 14.5
Constellation: Coma Berenices
RA: 12h 21m 42.4s
Dec: +75° 18' 32" Epoch 2000

Classification: SB(r)ab pec Sy1
Barred Spiral Galaxy, Inner Ring, Peculiar, Seyfert Type 1 Active Galactic Nucleus

---
Click below to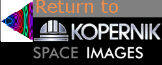 George Normandin, KAS
May 2nd, 2002