The NGC 4065 Galaxy Group in Coma Berenices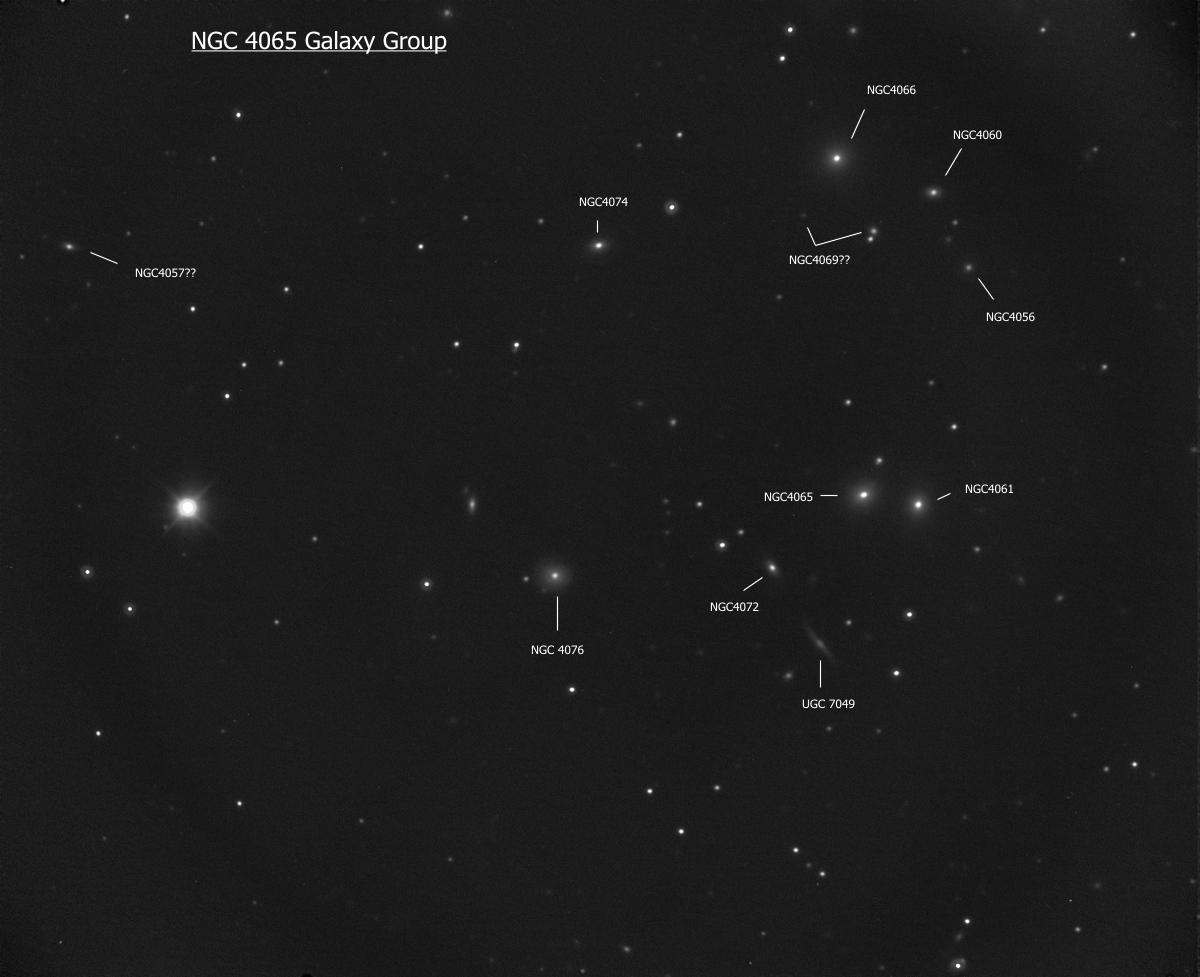 This is a 9 minute exposure with an ST-1301E CCD camera thru Kopernik's 20-inch F/8.1 Ritchey Chretien Cassegrain telescope working at F/5. The field of view is about 23x25 arc minutes, with North at the top.
---
Elliptical Galaxy NGC 4065 in Coma Berenices is the brightest of a group of seven galaxies. This group is a part of a larger galaxy cluster of about 16 galaxies. All appear to be Elliptical Galaxies except for the two Spiral Galaxies NGC 4076 and UGC 7049 (seen edge on). The image above includes many more distant background galaxies.

NGC 4076 was the host of recent Supernova 2011bc, but it had faded below the recording level of the image above when it was taken on June 30, 2011.

This is one of the areas of the sky where the famous 19th Century "New General Catalog of Nebulae and Clusters of Stars" (aka the NGC) contains a number of baffling errors. The area is full of very faint and small galaxies that were difficult to see visually in even the largest 19th Century telescopes. The NGC 4065 Group was first recorded by John Hershel on April 29th, 1832, but some of his notes are poor. Several other of the great visual observers returned to the area over the following years adding to the confusion. This resulted in some galaxies in the area having multiple NGC Catalog numbers and, and other catalog entries being currently assigned to galaxies that are probably too dim to see visually even in a 50-inch telescope. NGC 4057 was probably just a dim star and not the galaxy that currently has the designation. NGC 4069 may have been one of the two shown in the image above.
---
NGC 4065
Magnitude: 13.9
Constellation: Coma Berenices
RA: 12h 04m 06.3s
Dec: +20° 14' 05" Epoch 2000
Size (mins): 1.1' x 1.1'

Classification: Elliptical Galaxy



NGC 4076
Magnitude: 14.4
Constellation: Coma Berenices
RA: 12h 04m 32.5s
Dec: +20° 12' 18" Epoch 2000
Size (mins): 0.9' x 0.8'

Classification: Spiral Galaxy

---
George Normandin, KAS
July 3rd, 2011