NGC 3719 and NGC 3720
A pair of Spiral Galaxies in Leo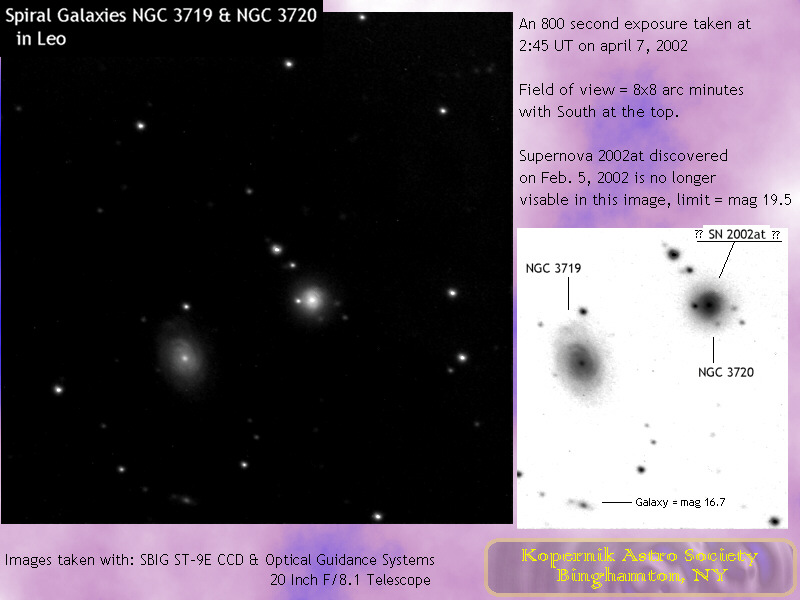 This is a 800 second exposure with an ST-9E CCD camera thru Kopernik's 20-inch F/8.1 Ritchey Chretien Cassegrain telescope. The field of view is about 8x8 arc minutes, with south at the top.
Supernova 2002at:

This image was made as an attempted observation of Supernova 2002 at. However, it has become too dim to appear in this image which has a limiting magnitude of around 19.5. The Katzman Automatic Imaging Telescope (Lick Observatory) discovered the supernova on February 5th, 2002. It was magnitude 17.8 at discovery.
---
---
NGC 3719
Magnitude: 13.4
Constellation: Leo
RA: 11h 32m 13.5s
Dec: +00° 49' 14" Epoch 2000
Size (mins): 1.8' x 1.3'

Classification: SA(rs)bc pec:
Spiral Galaxy, mixed inner ring s-shaped, peculiar (uncertain)



NGC 3720
Magnitude: 13.7
Constellation: Leo
RA: 11h 32m 22.1s
Dec: +00° 48' 17" Epoch 2000
Size (mins): 0.9' x 0.9'

Classification: SA
Spiral Galaxy, (uncertain)

---
Click below to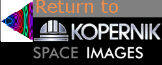 George Normandin, KAS
April 7th, 2002