Spiral Galaxy NGC 3338 in Leo
---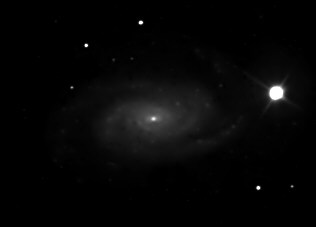 ---
This is a 5.25 minute exposure with an ST-6 CCD camera thru Kopernik's F/8.1 20-inch Ritchey Chretien Cassegrain telescope. The field of view is about 5x7 arc minutes.
---
Quote from the Deep Sky Field Guide to Uranometria 2000:

Small, very bright nucleus in smooth inner lens .33x.17 arc minutes, two main knotty arms. Very bright star at 2.7 minutes.

Based on the published red shift, (Hubble Constant of 62 Km/sec per Mpc) a rough distance estimate is 68 million light years, with a diameter of about 177,000 light years.
---
NGC 3338
Magnitude: 11.4
Constellation: Leo
RA: 10h 42m 07.4s
Dec: +13° 44' 52" Epoch 2000
Size (mins): 5.9' x 3.6'
Classification: SA(s)c I-II
Spiral, S-shaped, Luminosity Class I-II


---
Click below to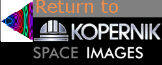 George Normandin, KAS
April 5th, 2000
Revised: April 18th, 2001