Planetary Nebula NGC 3242 in Hydra
aka "The Ghost of Jupiter"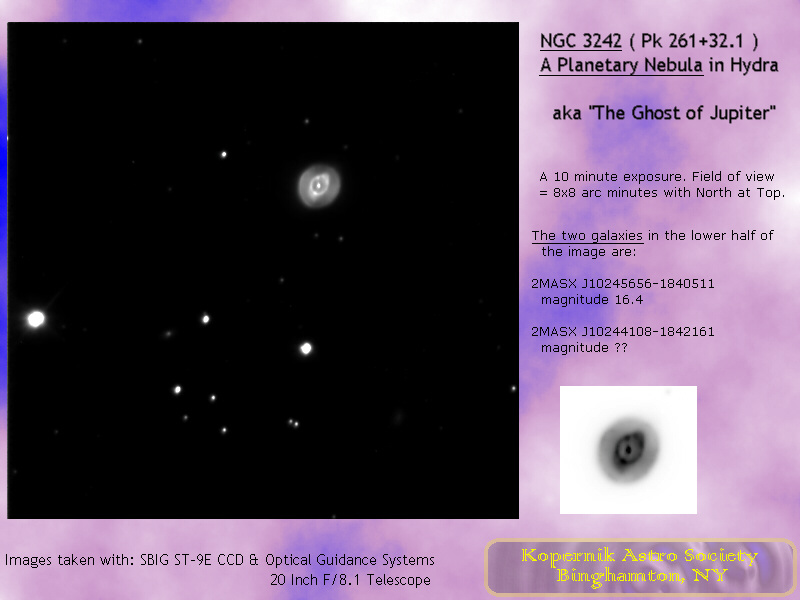 CCD image taken with an SBIG ST-9E CCD camera thru Kopernik's 20 inch F/8.1 telescope. The exposure was 10 minutes. The field of view is 8x8 arc minutes with North at the top.
---
Description in The Deep Sky Field Guide to Uranometria 2000:
"Remarkable! Planetary nebula, very bright, little extended 147°, 45" diameter, blue."
Quotes from Burnham's Celestial Handbook:
"This is a fine planetary nebula, easily located about 0.8° south of the star Mu Hydrae. In the small telescope it shows as a pale bluish softly glowing disc measuring about 40" x 35", appearing like a "ghost of Jupiter". The total magnitude is about 9; the central star is 11.4 visually."

"A peculiar and interesting structure is shown in larger instruments. There is a bright, strongly elliptical inner ring which strikingly resembles the outline of a human eye; this feature measures 26" x 16" and is oriented southeast to northwest. The "eye" is enclosed by a fainter outer shell of nearly spherical form, some 40" in diameter. In the exact center lies the illuminating star, a hot blue dwarf with a nearly continuous spectrum and a surface temperature of about 60,000°K. Much of the light of the cloud may be termed fluorescence, caused by the strong ultraviolet radiation of the central star. The bluish-green tint s due to the strong emission of doubly ionized oxygen (5007 and 4959 angstroms) but color photographs show that their fainter tints are also present. The surface brightness of the nebula is high, and bears magnifying well. All the main features may be discerned with a good 10-inch (telescope)........."
Planetary Nebula NGC 3242 (PK 261+32.1) lies in the Constellation of Hydra. William Herschel discovered it in 1787.

Click here for Hubble Space Telescope images of this nebula taken by planetary nebula experts Bruce Balick, University of Washington, Yervant Terzian, Cornell University, and others.

Background Galaxies: Note the two distant background galaxies near the bottom of the Kopernik image. The one of the left is magnitude 16.4 and the larger one on the right is considerably dimmer.
---
NGC 3242 (Other ID: PK 261+32.1)
Magnitude: 8.6
Constellation: Hydra
RA: 10h 24m 48.6s
Dec: -18° 38' 15" Epoch 2000
Size (sec) 40"
Classification: planetary nebula

---
Click below to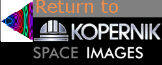 George Normandin, KAS
June 8th, 2003