Supernova 1999bw in Barred Spiral Galaxy NGC 3198
---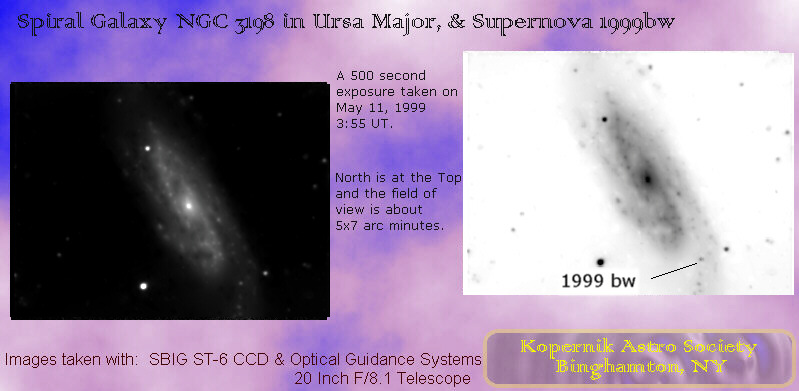 ---
The following is the data on Supernova 1999bw:
Discovered: April 20th, 1999, by the Lick Observatory Supernova Search team.
Magnitude 17.8 at discovery
Type IIn
The Supernova as shown in the Kopernik image is about 18th magnitude.
From IAU Bulletin 7152 (4/25/99):
A. V. Filippenko, W. D. Li, and M. Modjaz... write: "A CCD spectrum ...... obtained on Apr. 24 with the 3-m Shane reflector at Lick Observatory looks very similar to that of the type-IIn SN 1997bs in NGC 3627 (M-66). Another example of an object having a similar spectrum is SN 1999Z, but it was much more luminous. The type-IIn subclass clearly spans a very broad range of properties, as was already known to some extent (e.g., Filippenko 1997, Ann. Rev. Astron. Astrophys. 35, 309). It remains to be seen whether the explosion mechanism is core collapse in all of these objects; perhaps in some cases the star is not fully destroyed ...
---
Follow this Link to a NASA Web site on supernovas. It has a very nice animation and a description of what these objects are.
---
Spiral Galaxy NGC 3198:
The Deep Sky Field Guide to Uranometria 2000: Small, very bright nucleus in bar, partly obscured on one side; several knotty arms.

Dreyer's description from the New General Catalog(NGC): Pretty bright, very large, moderately extended 45°, very gradually brighter middle.

Based on the published red shift, a rough distance estimate for NGC 3198 and supernova 1999bw is: 35,000,000 light years, with the galaxy being 86,200 light years in diameter.
Magnitude: 10.8
RA: 10h 19m 54.9s
Dec: +45° 33' 09" Epoch 2000
Size (mins) 8.6' x 3.3'
Constellation: Ursa Major
Classification: SB(rs)c II

Barred Spiral, Mixed Ring - S-Shaped, Luminosity Class II.
---
Click below to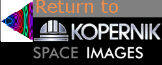 George Normandin, KAS
May 13th, 1999