Barred Spiral Galaxy NGC 3057 and Supernova 1997cx
---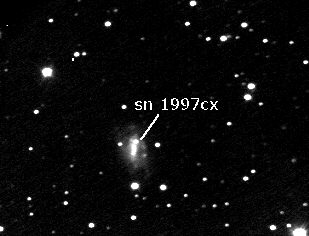 CCD Image of Supernova 1997cx in Galaxy NGC 3057 taken on 7/26/97 at 4:50 UT. It is a 12 Minute exposure using an SBIG ST-6 CCD camera thru Kopernik's 20 inch telescope (working at F/4.9). North at top; the field of view is about 9x12.5 arc minutes.
---
Click here to see this image with a map overlay showing the magnitude (one decimal place, not shown, i.e. 150 = 15.0) of the brighter stars, and the coordinate lines. The red box in this image is the calculated field of view of our ST-6 CCD camera. This version was produced using TheSky version 4, software.

---
The following is the data on SN 1997cx:
Discovered: July 12th, 1997
Mag 15.0(at discovery)
Type II, after maximum
Announced in International Astronomical Union Circular(IUAC) 6700:

M.Schwartz, U.S.A., has discovered SN 1997cx in NGC 3057 (R.A. 10h05.7m * DECL. 80°17') on CCD image taken on July 12, located 20" north from the galaxy's center. The magnitude is about 15 and the type II after maximum light.
---

This is the data on Barred Spiral NGC 3057 itself:
Magnitude: 13.9
RA: 10h 05m 38.3s
Dec: +80d 17' 08" Epoch 2000
Size (mins) 2.2 x 1.3
Constellation Draco
A barred spiral
---
Click below to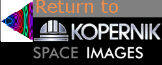 George Normandin, KAS
July 26th, 1997, revised 3/11/98