Spiral Galaxies NGC 2929, NGC 2930, and NGC 2931
Also: Galaxies MCG 4-23-21 and MCG 4-23-22
(Galaxies identified in negative image down the page)

---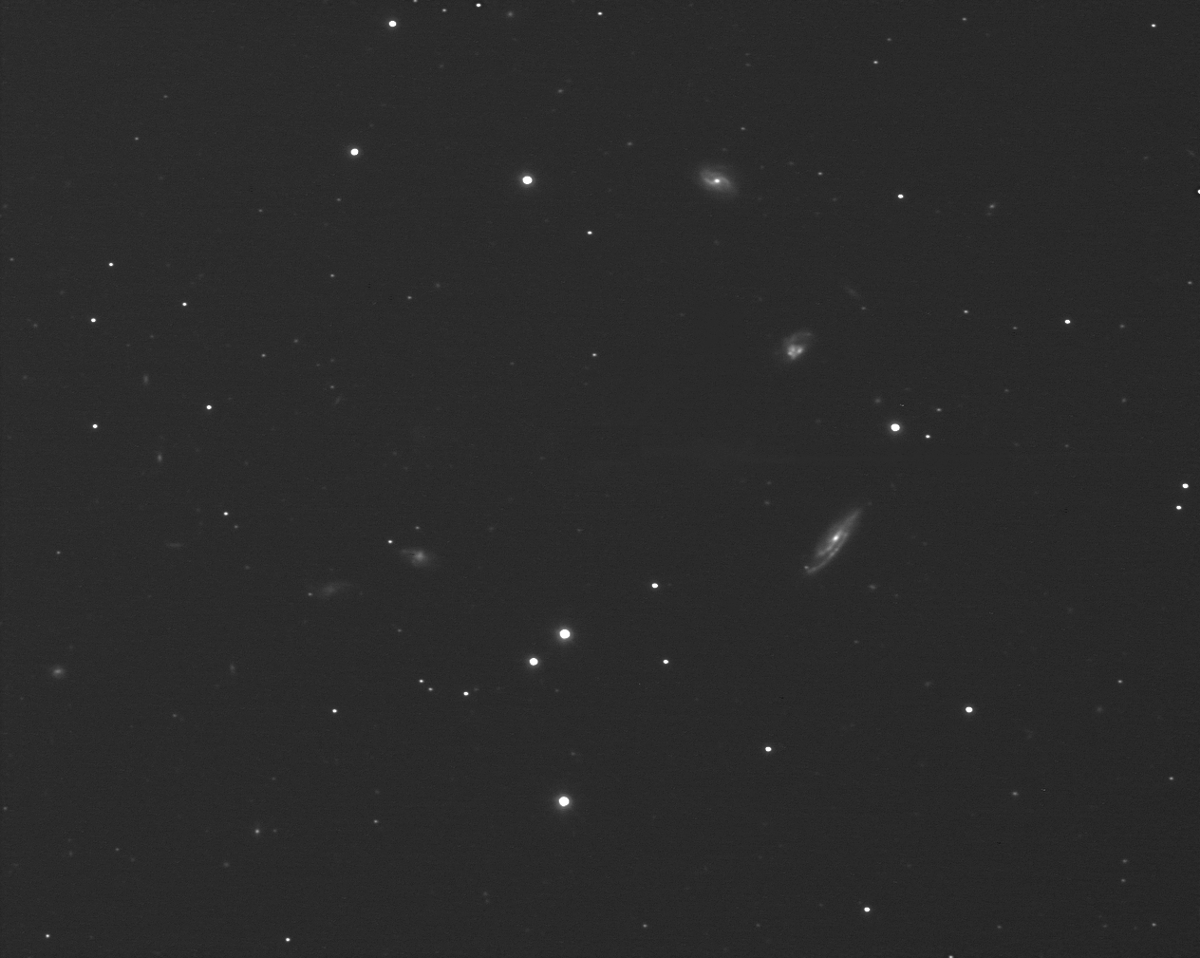 CCD Image is a 10 Minute exposure using an SBIG STL-1301E thru Kopernik's 20-inch F/8.1 telescope. North at top;
field: about 13x16 arc minutes.
---
Negative image with galaxies ID'ed. ? = unidentified background galaxies.
---
NGC 2929 Galaxy Group in Leo; Includes Spiral Galaxies 2929, NGC 2930, NGC 2931, MCG 4-23-21, MCG 4-23-22:

This group of five Spiral Galaxies in the Constellation of Leo are all roughly the same distance: 24.5 million light years (based on red shift data), and thus are probably a physical group. NGC 2930 shows signs of disturbance. Although Supernova 2010jn appeared in NGC 2929 a short time before the Kopernik image was made, there is no sign of it in our image.

The image also includes numerous background galaxies which are likely at much greater distances.

Note that there are position errors for four of these galaxies in the NGC and other catalogs. The data below are the positions measured on the Kopernik image, not the catalog data.
---
Galaxy NGC 2929:

Magnitude: 14.7
RA: 09h 37m 29.5s
Dec: +23° 09' 40" Epoch 2000
Size: (mins) 1.2' x 0.3'
Constellation: Leo
Type: Spiral Galaxy.

Galaxy NGC 2930:

Magnitude: 15.1
RA: 09h 37m 32.73s
Dec: +23° 12' 14.8" Epoch 2000
Size: (mins) 0.7' x 0.4'
Constellation: Leo
Type: Spiral Galaxy.

Galaxy NGC 2931:

Magnitude: 15.0
RA: 09h 37m 38.7s
Dec: +23° 14' 29" Epoch 2000
Size: (mins) 0.8' x 0.6'
Constellation: Leo
Type: Spiral Galaxy.


Galaxy MCG 4-23-21:

Magnitude: 15.7
RA: 09h 37m 54.3s
Dec: +23° 09' 12.7" Epoch 2000
Size: (mins) 0.7' x 0.3'
Constellation: Leo
Type: Spiral Galaxy.

Galaxy MCG 4-23-22:

Magnitude: 15.9
RA: 09h 37m 59.4s
Dec: +23° 08' 43" Epoch 2000
Size: (mins) 0.8' x 0.4'
Constellation: Leo
Type: Spiral Galaxy.
:
---
George Normandin, KAS
September 20th, 2011