NGC 2820, NGC 2814 and IC 2458
Three Galaxies in Ursa Major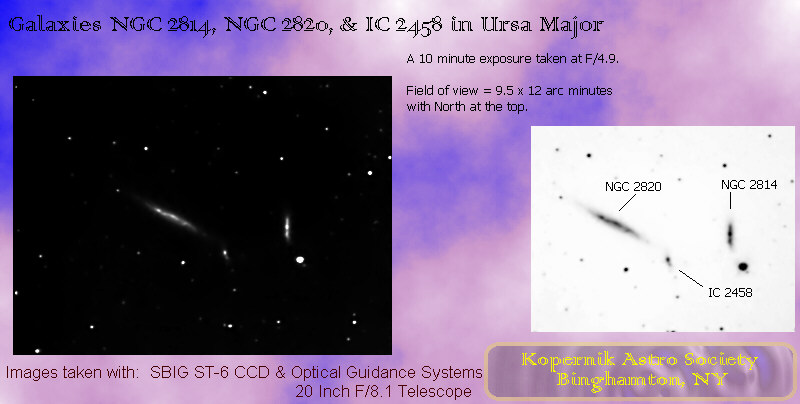 This is a 10 minute exposure with an ST-6 CCD camera thru Kopernik's 20-inch Ritchey Chretien Cassegrain telescope working at F/4.9. The field of view is about 9.5 x 12 arc minutes, with North at the top.
---
Spiral Galaxies NGC 2814 and NGC 2820 are two very different galaxies that have nearly the same red shift and probably are close in space. They are part of a triplet with Irregular Galaxy IC 2458. The large spiral galaxy NGC 2805 is just outside of the Kopernik image (lower right) and it is also at the same distance as the others. NGC 2814 and IC 2458 are considered as having H-II region-like nuclei that are the site of much current star formation. NGC 2820 is a 'star burst' galaxy with massive star formation just outside of its nucleus.

Using the red shift data from the "NASA Extra-galactic Data Base(NED)", (and a Hubble Constant of 62 Km per sec., per Megaparsec), one can calculate a rough distance estimate of 83 million light years for this galaxy group.
---
NGC 2814
Magnitude: 14.1
Constellation: Ursa Major
RA: 09h 21m 12.8s
Dec: +64° 15' 05" Epoch 2000
Size (mins): 1.2 x 0.3

Classification: Barred Spiral, (uncertain)

Dreyer's Description in the NGC:

"Faint, small, irregular figure, 1st of 2."


NGC 2820
Magnitude: 13.2
RA: 09h 21m 47.0s
Dec: +64° 15' 29" Epoch 2000
Size (mins): 4.1 x 0.5

Classification: Barred Spiral, peculiar, spindle shaped

Deep Sky Field Guide:

"In contact with IC 2458."

IC 2458
Magnitude: 15.5
RA: 09h 21m 29.4s
Dec: +64° 14' 11" Epoch 2000
Size (mins): 0.5 x 0.2

Classification: Irregular, peculiar
---
Click below to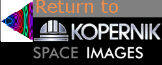 George Normandin, KAS
June 1st, 2001