Lenticular Galaxy NGC 252 with Supernova 1998de
---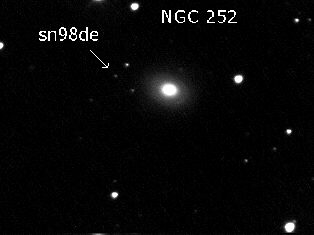 CCD Image taken on August 20th, 1998, UT 5:25, using an SBIG ST-6 thru Kopernik's 20 inch F/8.1 telescope. The field of view is about 5x7 arc minutes, with north at the top.
---
The following is the data on SN 1998de:
Discovered: July 23rd, 1998, by Lick Observatory Supernova Search
Magnitude 17.8 at discovery
Type Ia peculiar
From IAU Bulletin 6980 (7/27/98):
....Harvard-Smithsonian Center for Astrophysics, reports that a spectrum of SN 1998de was obtained ...... implying that this is a type-Ia supernova. Correcting for the host-galaxy redshift of 5,023 km/s, the photospheric expansion velocity is 13,300 km/s. (other data) ....suggests that this will be a fast-declining type-Ia event.
Note that the supernova is much brighter on the discovery image than it is on the Kopernik image taken about a month later.
---
This is the data on lenticular galaxy NGC 252 itself:
Magnitude: 13.4
RA: 00h 48m 1.7s
Dec: +27d 37' 24" Epoch 2000
Size (mins) 1.5 x 1.1
Constellation: Andromeda
de Vaucouleurs classification: (R)SA(r)O
_ Outer Ring, Lenticular Galaxy, Inner Ring.
The outer ring of this strange system is just visible in our CCD image. This galaxy forms a pair with the peculiar spiral galaxy NGC 260 which is just off of the upper left edge of the image.
Based on the published red shift, a rough distance estimate for NGC 252 and supernova 1998de is: 264,000,000 light years. Considering that the other stars in the image are no more than a few thousand light years at the most, it is possible to see the tremendous amount of energy released by this event.
---
Click below to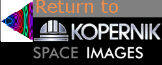 George Normandin, KAS
August 20th, 1998
Revised: February 21st, 1999