Open Star Cluster NGC 2420 in Gemini
---
A 10:10:10:10 minute LRGB exposure with an STL-1301E CCD camera thru Kopernik's 20-inch F/8.1 Ritchey Chretien Cassegrain telescope. The field of view is about 13x13 arc minutes, with North at the top.
---
Dreyer's description of NGC 2420 in his New General Catalog (NGC):

"Cluster, considerably large, rich in stars, compressed, stars of magnitude 11 to 18."

Quote from: The Deep Sky Field Guide to Uranometria 2000, 2nd Ed:

"Open Cluster of approximately 300 stars, the brightest being magnitude 11. Moderately rich in stars; small brightness range; strong central concentration; detached from surrounding star field."
---
NGC 2420
Magnitude: 8.3
Constellation: Gemini
RA: 07h 38m 30.0s
Dec: +21° 34' 00" Epoch 2000
Size (mins): 10.0'
Classification: Open Star Cluster.

---
Click below to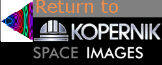 George Normandin, KAS
May 14th, 2005