Planetary Nebula NGC 2392
aka "The Eskimo Nebula"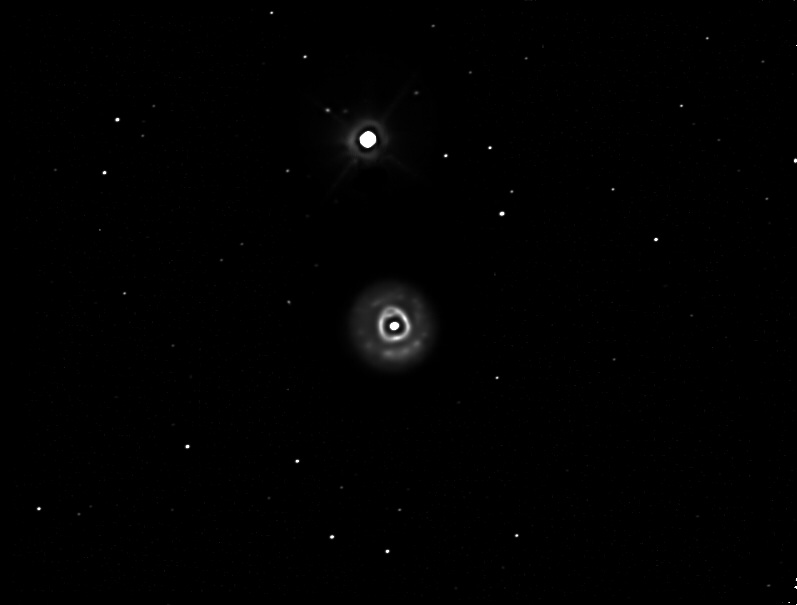 CCD image taken with an SBIG ST-9E CCD camera thru Kopernik's 20 inch F/8.1 telescope. The exposure was 7.5 minutes.
---
Description in The Deep Sky Field Guide to Uranometria 2000:
Irregular disk with traces of a ring structure, involved in a larger and fainter disk of irregular form with traces of ring structure; central star apparent magnitude: 10.5
---
NGC 2392 is a small bright Planetary Nebula discovered by William Herschel in 1787. A small telescope shows it as an 8th magnitude star-like object, distinguishable by its soft fuzzy glow and perceptible disc which measures about 40" across. A ghostly bluish-green color becomes evident with larger telescopes. T.W. Webb in 1852 described this nebula as "quite like a telescopic comet" while Lord Rosse (1850) spoke of it as "a wonderful object as seen with the 6-foot telescope; it has been several times examined and as yet we have not seen the slightest indication of resolvability. The outer ring is seen on a pretty good night completely separated from the nucleus surrounding the brilliant point or star. The light is very bright and always appears to be flickering, owing no doubt to the unsteadiness of the atmosphere. There is a small dark space to the right of the star.......".

As typical with planetary nebulae, the catalogs give widely different distances for NGC 2392. A "compromise" distance estimate of 3,000 light years would mean that the actual diameter would be about 36 thousand Astronomical Units or 0.6 light year. The central star, one of the brightest known in any of the planetaries, is an O type dwarf about 40 times more luminous than the Sun; the surface temperature is about 40,000 degrees K. Very strong radiation from the central star excites the bright fluorescent glow of the nebulosity. Two strong spectral lines at 5007 and 4959 angstroms, the so-called "forbidden lines" of doubly ionized oxygen, produce a bluish-green tint.
---
NGC 2392 (Other ID: PK 197+17.1)
Magnitude: 10.0
Constellation: Gemini
RA: 07h 29m 12.0s
Dec: +20°55'00" Epoch 2000
Size (mins) 0.7
Classification: planetary nebula

---
Click below to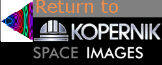 George Normandin, KAS
December 8th, 2002