NGC 2071 Reflection Nebula in Orion

This a 60 minute exposure with a STL-1301E CCD camera thru Kopernik's 20-inch telescope working at F/5. The field of view is about 18x18 arc minutes with North at the top.
---
NGC 2071, Reflection Nebula:

Reflection Nebula NGC 2071 lies a little to the north of reflection nebula M-78. NGC 2071 is quite bright and contains a number of dark areas. Located near by there are several other reflection nebulae (NGC 2064, NGC 2067, McNeil's Nebula, etc) separated by a wide lane of dark matter that is a part of dark nebula Lynds 1630. All of these objects are a part of the same cloud of gas and dust that covers much of the Constellation of Orion.
NGC 2071
Constellation: Orion
RA: 05h 47m 12.0s
Dec: +00° 18' 00" Epoch 2000
Size (mins): 12' x 12'

Classification: Reflection Nebula

Dreyer description: "Double star (10 & 14th magnitude) with very faint, large nebula."
---
Click below to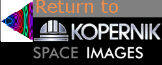 George Normandin, KAS
April 4th, 2005