Galaxies NGC 1612 & MCG-1-12-28 - Supernova 2000fm

This is a 11 minute exposure with an ST-6 CCD camera thru Kopernik's 20-inch F/8.1 Ritchey Chretien Cassegrain telescope taken on February 19th, 2001 at 3:00 UT.
---
Supernova 2000fm:

Discovered: December 14th, 2000, by amateur astronomer Mike Schwartz using a telescope nearly identical to Kopernik's 20 inch scope.
Magnitude 17.0 at discovery, and about 17.6 in the Kopernik image.
Type II, discovered before maximum light.

Follow this Link to a NASA Web site on supernovas. It has a very nice animation and a description of what these objects are.
---
These two spiral galaxies are a part of a galaxy group that also includes NGC 1599, NGC 1600, NGC 1601, NGC 1603, NGC 1604, NGC 1606, NGC 1607, NGC 1609, NGC 1611, NGC 1612, NGC 1613, and several fainter galaxies.
---
NGC 1612
Magnitude: 13.9
Constellation: Eridanus
RA: 04h 33m 13.2s
Dec: -04° 10' 23" Epoch 2000
Size (mins): 1.2' x 0.9'

Classification: SB(r)0/a


Barred Spiral, inner ring


Dreyer description in the NGC:


"Very faint, very small, round, gradually much brighter middle."

MCG-1-12-28
Magnitude: 17.4
Constellation: Eridanus
RA: 04h 32m 54.0s
Dec: -04° 12' 03" Epoch 2000
Size (mins): 1.6' x 0.2'

Classification: Spiral Galaxy




Description:

Edge-on, thin disk.
---
Click below to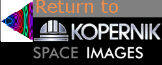 George Normandin, KAS
February 20th, 2001