Dwarf Elliptical Galaxy NGC 147
---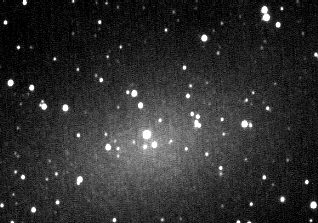 This is a 10 minute exposure using an SBIG ST-6 CCD camera thru Kopernik's 20 inch F/8.1 telescope;
the field of view is about 5x7 arc minutes and thus covers only the inner part of the galaxy. NGC 147 is a companion of M-31.
---
Description of NGC 147 in The Deep Sky Field Guide to Uranometria 2000:

Quote from Burnham's Celestial Handbook:

(referring to NGCs 147 & 185) These two miniature elliptical galaxies appear to be distant companions of the Great Andromeda Galaxy M31. .......and are approximately the same distance .....about 2.2 million light years..... The true separation from the Andromeda Galaxy appears to be about a quarter of a million light years.

(NGC 147): ......the true diameter may be about 4,400 light years across the longer dimension. ...... The total luminosity is only about 6 million times that of the Sun, which places this dwarf system among the intrinsically faintest galaxies known. ........(M-31) is about 2,000 times more luminous!
---
This is the data on NGC 147:
Magnitude: 10.4
RA: 00h 33m 11.6s
Dec: +48d 30' 28" Epoch 2000
Size (mins) 13.2 x 7.8
Constellation Cassiopeia
A dwarf Elliptical Galaxy
---
Click below to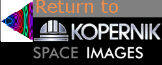 George Normandin, KAS
December 8th, 1997