Spiral Galaxy MCG +8-18-9 & Supernova 2001ag
---
A 12 minute exposure with an ST-6 CCD camera thru Kopernik's 20-inch F/8.1 Ritchey Chretien Cassegrain telescope. The field of view is about 5x7 arc minutes, with North at the top.
Time: 4:45 UT, April 14th, 2001.
For a larger picture, click here.
---
Supernova 2001ag:

Discovered March 27th, 2001, at Puckett Observatory by T. Puckett and M. Peoples.
Magnitude 18.2 at discovery
Type II.
The expansion velocity is about 9,100 km/s.
The supernova is magnitude 17.4 in the Kopernik image.
Follow this Link to a NASA Web site on supernovas. It has a very nice animation and a description of what these objects are.
---
Spiral Galaxies MCG +08-18-009 and MCG +08-18-008:

This pair of Spiral Galaxies is in the constellation of Ursa Major. MCG +08-18-009 along with Supernova 2001ag, is about 420 million light years away. There is also a dim anonymous galaxy on the right (west) side of the Kopernik image above, best seen in the enlarged version of the picture.
---
MCG +08-18-009
Magnitude: 16.9
Constellation: Ursa Major
RA: 09h 34m 31.54s
Dec: +46° 27' 42" Epoch 2000
Size (mins): 0.4' x 0.3'
Classification: Spiral Galaxy
---
Click below to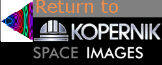 George Normandin, KAS
April 16th, 2001