Barred Spiral Galaxy M-96 (NGC 3368) in Leo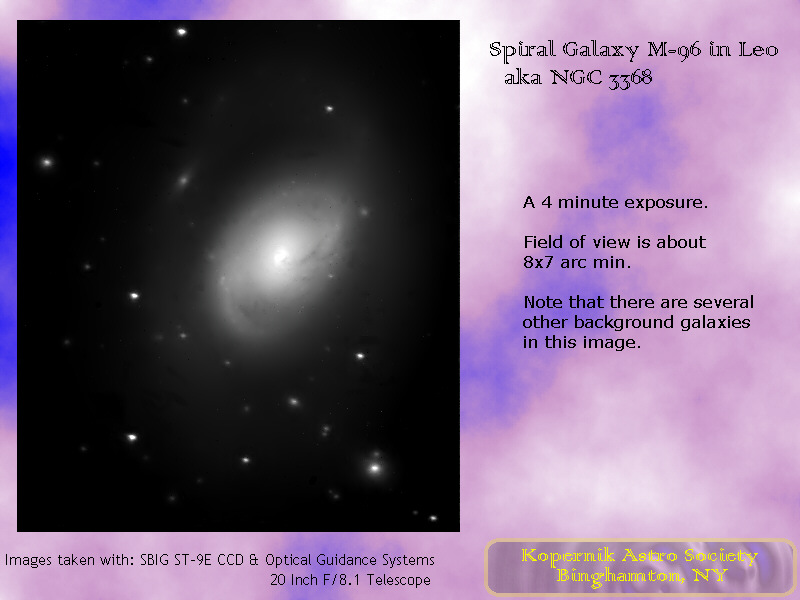 This is a 4 minute exposure with an ST-9E CCD camera taken thru Kopernik's 20-inch telescope under poor conditions. The field of view is about 8x7 arc minutes.

---
Barred Spiral Galaxy M-96 is one of a bright pair of spiral galaxies, ( the other is M-95 ) in the constellation of Leo. M-96 is a face-on barred spiral galaxy. Nearby one can find a group of three companion galaxies, NGC 3379 (M-105), NGC 3384, and NGC 3389. All are part of the Leo Galaxy Cluster. This cluster includes other bright members, like spiral galaxies M-65 and M-66, plus numerous smaller systems.

M-96 contains about 160 billion solar masses and is about 100,000 light years in diameter. It was discovered by P. Mechain in March 1781.

The Deep Sky Field Guide to Uranometria 2000:

Small bright nucleus in a broad defuse bar with many dark lanes; Companion (14th mag gal.) attached at 3' SSW of center, size .4 x .4 min.

Dreyer's description in the New General Catalog(NGC):

Very bright, very large, little extended, very abruptly very much brighter middle, resolvable, but mottled; = M96.
---
M-96, NGC 3368
Magnitude: 9.9
Constellation: Leo
RA: 10h 46m 45.2s
Dec: +11° 49' 16" Epoch 2000
Size (mins): 7.5' x 5.2'
Classification: SAB(rs)ab II, Barred spiral, Mixed Inner ring - S-shapped, Luminosity Class II

---
Click below to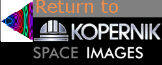 George Normandin, KAS
June 30th, 2002