Barred Spiral Galaxy NGC 4548 (M-90 ??)
in Coma Berenices
---
---
The Deep Sky Field Guide to Uranometria 2000:

Bright diffuse nucleus in strong bar, 1.7 x .3 arc minutes with dark lane, bright filamentary arms.

The M-91 mystery: Is NGC 4548 Messier's M-91?

On March 18th, 1781 Charles Messier discovered (in his own words), a "nebula without star in Virgo, above the preceding No. 90: its light again fainter than the above". Unfortunately there is no galaxy at the position he published in 1784. Ever since this has been one of the "Missing Messier Objects". There have been a number of suggestions as to the true identify of what he saw that night, and most references now call NGC 4548 "M-91", after amateur astronomer W.C. Williams showed in a letter published in the Dec. 1969 issue of Sky & Tel. how Messier most likely messed up. He recorded later objects' positions buy measuring their offset in RA/Dec from a known bright object. In the Virgo area he always used the same galaxy, but in this case, he used another. However, if you apply the offset he recorded to his usual starting point, you come to NGC 4548.

NGC 4548 is a barred spiral galaxy in the constellation of Coma Berenices. Two different teams using the Hubble Space Telescope estimate its distance to be 48 to 58 million light years. It is therefore a member of the Coma-Virgo Galaxy Cluster. The spiral arms inner parts form an incomplete ring just outside of the bar. Like many barred spirals with small nuclei NGC 4548 has a strong energy source in its center. Many astronomers believe that giant black holes are the energy source in these Active Galactic Nuclei.

The two Kopernik CCD images were taken with an ST-6 camera thru our 20 inch telescope. The wide-field image was taken using a focal reducing lens. To the lower left in the wide-field image is the 15.6th magnitude spiral galaxy CGCG 99-97. This is a background galaxy (rough distance = 480 million light years), plus there are several other anonymous galaxies in the frame.
---
NGC 4548 ( M-91 ??)
Magnitude: 11.1
Constellation: Coma Berenices
RA: 12h 35m 26.3s
Dec: +14° 29' 49" Epoch 2000
Size (mins): 5.4' x 4.3'
Classification: SB(rs)b, Barred Spiral, Mixed Ring/S-shaped

---
Click below to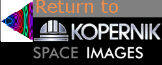 George Normandin, KAS
September 26th, 2000