Elliptical Galaxy M-86 ( NGC 4406 )
---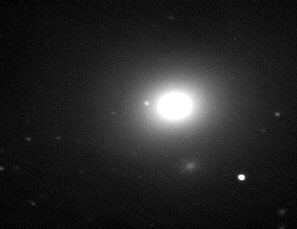 This is a 10 minute exposure with an ST-6 CCD camera thru Kopernik's 20-inch telescope. The field of view is about 5x7 arc minutes, with south at the top.
---
Quote from the Deep Sky Field Guide to Uranometria 2000:

Very bright center, smooth nebulosity, faint envelope in outer parts. Companion superimposed at 1.4 minutes North East. (This is 16.7 magnitude elliptical galaxy PGC 40659 seen below M-86 in the Kopernik image. Also, note another galaxy in the lower right of the image; it's 18.9 magnitude elliptical galaxy PGC 40691)


Quote by Charles Messier (March 18th, 1781): "Nebula without star in Virgo on the same parallel and very near the nebula No. 84 above: they both have the same appearance and are seen together in the same field in the telescope."


Quote from Burnham's Celestial Handbook: M-86 is one of the eccentrics of the Virgo Galaxy Cluster, since it shows no red shift at all....... If it is actually a member of the Virgo aggregation, it must have an abnormally high individual space motion, and is possibly escaping from the cluster. There is the possibility, also, that M-86 is actually a foreground system, merely seen in the same direction as the Virgo Cloud, but actually much closer to us; this was the solution adopted by E. Holmberg, who found a probable distance of slightly under 20 million light years, an absolute magnitude of -19.1, and a computed mass of about 130 billion solar masses. M86 is one of the redder galaxies in this region, with an integrated spectral type of about G7.
---
M-86, NGC 4406
Magnitude: 9.8
Constellation: Virgo
RA: 12h 26m 11.8s
Dec: +12° 56' 49" Epoch 2000
Size (mins): 9.0' x 5.8'
Classification: E3

Elliptical Galaxy
---
Click below to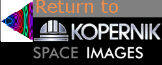 George Normandin, KAS
June 1st, 2000