Elliptical Galaxy M-84 ( NGC 4374 )
---

This is a 10 minute exposure with an ST-6 CCD camera thru Kopernik's 20-inch telescope. The field of view is about 5x7 arc minutes, with north to the left.
---
Quote from the Deep Sky Field Guide to Uranometria 2000:

Very bright center, smooth nebulosity.


Quote by Charles Messier (March 18th, 1781): "Nebula without star in Virgo. In the center it is pretty bright and surrounded with a slight nebulosity. The brightness and general appearance are similar to M-59 and M-60."


M-84 is usually considered an elliptical system of type E1. However a number of unusual features of this galaxy have convinced many astronomers that it is actually a face-on lenticular galaxy. M-84 is a classical double lobed radio galaxy, with extensive jets of electrons spewing out of its center in opposite directions. It has a prominent skewed dust lane in its central region associated with ionized gas (see Hubble Space Telescope image & press release on this dust ring and indications of a central black hole). The orientation of the dust lane is perpendicular to that of the radio emission. M-84 has also been detected in infrared (dust) and has a single X-ray jet shooting out from its nucleus..

M-84 forms a close pair with M-86, making up the western portion of the "core" of the Virgo Galaxy Cluster. With small to moderate sized telescopes these two galaxies can be seen in the same eyepiece field.
---
M-84, NGC 4374
Magnitude: 10.0
Constellation: Virgo
RA: 12h 25m 03.7s
Dec: +12° 53' 15" Epoch 2000
Size (mins): 6.4' x 5.6'
Classification: E1

Elliptical Galaxy
---
Click below to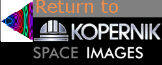 George Normandin, KAS
June 1st, 2000