Spiral Galaxy M-83 (NGC 5236) in Hydra
---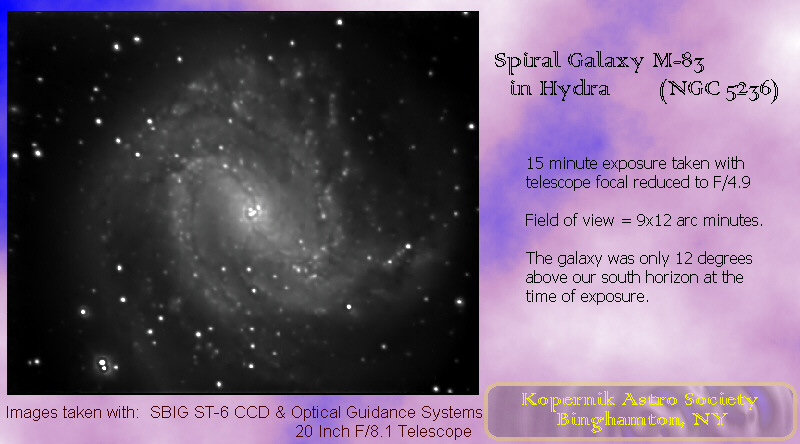 This is a 15 minute exposure with an ST-6 CCD camera thru Kopernik's 20-inch telescope focal reduced to F/4.9. The field of view is about 9x12 arc minutes, with north to the top.
---
Quote from the Deep Sky Field Guide to Uranometria 2000:

Extremely bright nucleus in a bright complex bar with dark lanes; Two main, patchy arms, with much branching.


Quote by Charles Messier (March 18th, 1781): "Near the head of Centaurus: it appears as a faint and even glow but it is difficult to see in the telescope as the least illumination of the micrometer wires makes it disappear. Only with the greatest concentration is one able to see it at all. It forms a triangle with two stars estimated at 6th and 7th magnitude. M. De la Caille has already determined (the position of) this nebula......."


M-83 is a bright face-on spiral galaxy in the constellation of Hydra. La Caille discovered it while observing from the Cape of Good Hope (in Africa) in 1751. This galaxy is undergoing a burst of star formation in the nucleus and in the spiral arms, possibly triggered by its companion NGC 5253 (Condon et al. 1982). Associated with the star formation is strong emission in the radio (Condon et al. 1982), in the infrared (Telesco & Houper 1980), and in the X-ray (Trinchieri, Fabbiano, & Palumbo 1985). A large number of supernovae have been observed in this galaxy (five since 1923), among which the one detected in the nucleus (1968L) is a Type II supernova. The association of the Type II supernova with H II regions in the spiral arms and in the nucleus is in agreement with the general scenario of a starburst (Richter & Rosa 1984).
---
M-83, NGC 5236
Magnitude: 8.1
Constellation: Hydra
RA: 13h 37m 00.2s
Dec: -29° 52' 04" Epoch 2000
Size (mins): 12.9' x11.5'
Classification: SAB(s)c


Mixed Barred Non-barred Spiral Galaxy, S-shaped
---
Click below to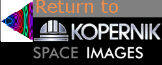 George Normandin, KAS
May 21st, 2001