Globular Star Cluster M-71 (NGC 6838)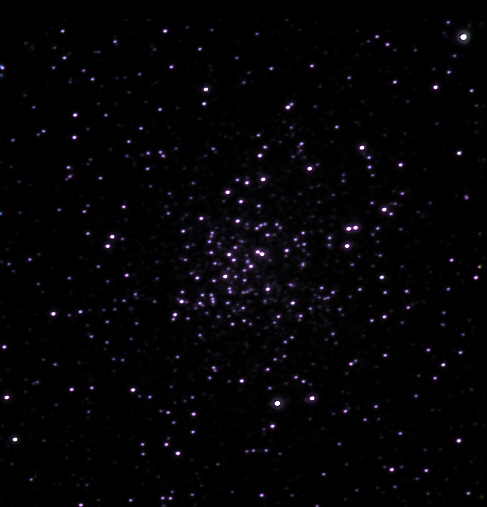 This image was taken with an ST-9E CCD camera (with AO-7) thru Kopernik's 20-inch F/8.1 telescope. This was a 21 minute exposure (LRGB= 9:4:4:4 minutes). The field of view is about 9x9 arc minutes.
---
Today most astronomers consider M-71 to be a very loose globular star cluster that is a part of a small and unique group of globulars with metal-rich stars. This class of "disk population globular clusters" includes the famous southern sky cluster NGC 104 (47 Tucanae). It's stars exhibit characteristics that are not explained by any current theory of stellar evolution, and the cluster remains a subject of active research.
Discovery: M-71 was probably first observed by de Cheseaux as early as 1746, but his record was lost. J.G.Koehler independently discovered it at Dresden about the year 1775, and in June 1780 P.Mechain rediscovered it.

Charles Messier (Oct. 4th, 1780): 'Nebula discovered by M. Mechain 28th June 1780 between the stars gamma and delta Sagittae. On the 4th Oct. following, M. Messier looked for it. The light is very faint and it contains no star. The least light extinguishes it. It is situated about 4° below that which M. Messier discovered in Vulpecula, see No. 27. It was reported on the chart of the comet of 1779. Diameter = 3.5 arc minutes.'

Admiral Smyth : 'A rich, compressed Milky Way cluster.'

Description of M-71 in
The Deep Sky Field Guide to Uranometria 2000 (c) Willmann-Bell, Inc.:

Burnham's Celestial Handbook (1978): "M71 is one of those unusual clusters whose precise classification is somewhat in doubt. R.J.Trumpler and H. Shapley both considered it as a galactic cluster, though an unusually rich one. In most modern lists it is included as a globular, though it lacks the dense central compression found in most globulars. A study by J.Cuffey (1959) of Indiana University has not totally resolved the uncertainty. Using the McDonald 82-inch reflector, he found an H-R diagram very different from a typical open cluster; the usual main sequence is not present; the diagram reveals a red giant sequence resembling that of a globular, but with some unique differences. The red giant sequence shows an unusually large scatter and a steeper slope than normal; the usual horizontal branch - if it exists at all - shows only a rough sprinkle of plotted points with large scatter, and there appear to be no RR Lyrae stars at all in the group. Spectra show that the cluster stars are metal-rich, which does not support the classification as a globular. According to a study of various clusters by T.Kinman (1957) the distance is probably about 18,000 light years; the full diameter of about 6' then corresponds to about 30 light years. The radial velocity is 50 +/- miles per second in approach, consistent with either type of cluster."
---
M-71, NGC 6838
Magnitude: 8.3
Constellation: Sagitta
Dreyer description in the NGC: "Cluster, very large, very rich in stars, westward much compressed, stars of magnitude 11 to 16; = M71."
RA: 19h 53m 48.0s
Dec: +18° 47' 00" Epoch 2000
Size (mins) 7.2
Classification: Metal-rich "disk population" Globular Cluster

---